Wondrous Washington: Where history beckons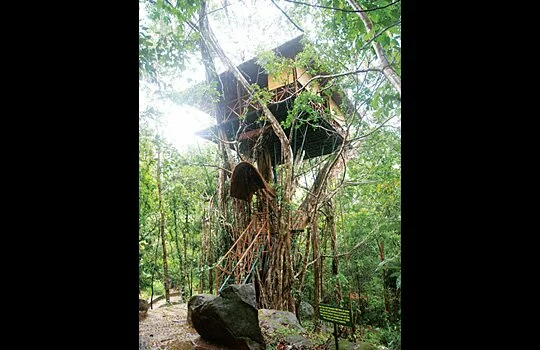 Offering a plethora of attractions to tourists, Wayanad district has become the most happening destination of Malabar. Suitably, Wayanad is the melting pot of the natural charm of God's own country

Interestingly, though the district is called Wayanad, there is no place by that name. So if you scout for a place called Wayanad in Wayanad district, you are likely to be disappointed. Keeping Kalpetta, the district headquarters as the base, one can explore the myriad tourist attractions. For the adventurous, there are hills to trek, for the religious, there are sacred shrines, those who have a flair for history can explore the prehistoric caves, and for the laid back, there are lakes, mist-cloaked, undulating hillsides swathed in plantations, hedged by lush rainforests, rushing rivulets, and sparkling cascades that stuns the eyes with its varying shades of green.

Where: It is located on the southern tip of the magnificent Deccan plateau. It is on NH 212 that connects Kozhikode to Mysore.

How to get there
Nearest airport and railway station is Kozhikode
Road: Well connected by roads from Kozhikode, Kannur, Ooty and Mysore
Weather Summer is pleasant. Monsoon is from June to September. Winter can be cool.
Best time to visit: From October to May end.

Must see must do

Pookote Lake:
Flanked by hills, the placid, picturesque freshwater lake gets its name from the hundreds of white and mauve water lilies that grow within. Pedal boats or rowboats can be hired from the boathouse on the banks of the lake. Take a stroll around the circular walkway around the lake or simply relax by the water's edge and enjoy the tranquil idyll.
Edakkal Caves:
If you have a flair for history, visit the pre-historic Edakkal Caves formed out of a strange disposition of three massive boulders on the crest of a hill known as the Ambukuthimala about 10 km from Sultan Bathery. These caves have become famous for their ancient carvings and pictorial wall inscriptions of human and animal figures with peculiar headgear and swastika forms and symbols. The end of these caves is situated between two mountains, both rising parallel from the ground with a gap between them. One can witness a magnificent view of the valley from this gap, full of imaginable beauty. Ambalavayil Heritage Museum, near Edakkal, showcases artifacts of tribes besides engravings on stone slabs in the Vattezhuthu script and soft stone idols of tribal gods.

Sulthan Bathery Jain Temple
It was earlier known as the Sree Maha Ganapati temple. Its name changed after Tipu Sultan marched in with his troops and used the 13th century Jain temple here as ammunition dump. The town derives its name from that event.

Thirunelly Temple
Surrounded by the Kambamala, Karimala and the Varadiga hills, one can reach the temple hamlet of Thirunelly, through a meandering route, cruising past rich bamboo forests. The Papanasini River flowing downhill heightens the scenic beauty. A ritual dip in its crystal clear waters is believed to wash away one's worldly sins. Against the backdrop of the looming Brahmagiri Hills lies the more than 1000 years old Mahavishnu temple. Built in traditional Kerala style, it features 30 granite columns. Famed as the Thekkan Kashi (Kashi of the South), many legends are associated with the place and it has retained its natural charm. A famous pilgrim centre, the temple attracts hordes of devotees especially for performing ancestral rites.
Shop for: Fresh spices from any of the local shops. Tea, coffee, honey, bamboo products, carved coffee wood products, and native handicrafts are other must-buys from this spice-rich land. Check out a wide range of products made out of two dozen varieties of bamboo at the Uravu Eco Shop and also pickles spices and honey.

Eat here
Rain Country Resort serves traditional Kerala cuisine. Also try out the Malabar chicken curry with appams at Vythiri Resort.

We recommend
For a whiff of raw adventure, take the 9-km trek through the dense forests to Pakshipathalam, a massive chain of caves crafted by nature millions of years ago in Brahmagiri Hills or climb up Chembra Peak, the tallest summit in this region and pitch a tent. Or, go island hopping to Kuruva Dweep, a 950-acre maze of islets. Or, clamber up a crane lift to Vythiri Tree House to have a bird's eye view of the luxuriant forest. Listen to the sounds of the jungle and wake up to the musical chirping of birds.