From a dusty town, Siem Reap has evolved into a boomtown and tourist hub thanks to the Angkor Wat and the incredible range of magnificent Angkor-period temples in its backyard. Text and Photos by Susheela Nair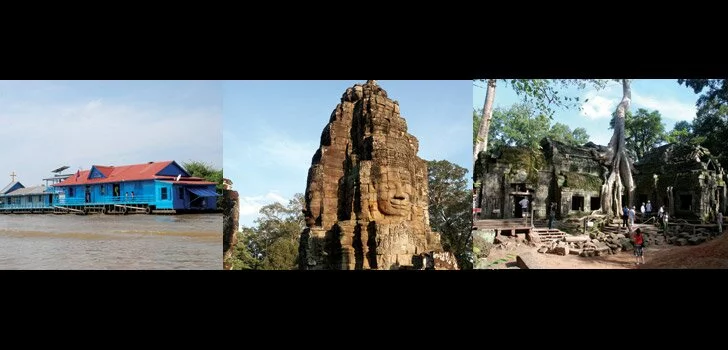 It may be a city of temples and history but there are so many things you can do in Siem Reap. You can soar up in a tethered air balloon to have breathtaking and aerial views of Angkor. You can hire a tuk-tuk and go for the ride of your life or you can simply take a leisurely stroll through the eloquent ruins of Angkor Wat, Angkor Thom and Ta Prohm which will leave you spellbound. They are fascinating enough to absorb your attention for several days.
Where: Located in North West Cambodia
How to get there: There are daily flights from Bangkok and other towns to Siem Reap
Weather: Avoid the hot season (March to May) and the monsoon (from May to end of September)
Best time to visit: October to March
Sites to See
Angkor Wat: This sculptural extravaganza is acclaimed as the world's largest religious monument and is Cambodia's pride. A massive moat with a sandstone causeway on the west leads to the temple. One can spend endless hours gazing in wonder at the soaring lotus bud shaped towers, reflecting moat and a gallery with a profusion of intricate friezes depicting scenes from the Ramayana and Mahabharata and Suryaverman II's success on the battlefield.
The exquisite sculptures of numerous beguiling apsaras gracing the walls, and the spectacular bas-reliefs in the gallery will take your breath away. This vast complex includes the central tower rising in the upper terrace symbolizing the mythical Mount Meru, whilst the five towers correspond to the five peaks of the mountain. Built during the reign of Suryavarman II in the 12th century, it was originally dedicated to Vishnu. Subsequently, it became a Buddhist monastery after the Kymer kingdom embraced Buddhism.
Angkor Thom:
This immense city is enclosed by defensive walls and gateways. A stone causeway across a wide moat with 54 images of gods on the left and 54 images of demons on the right depicting the myth of the Churning of The Ocean of Milk leads to two fabulous royal terraces and the sacred Bayon Temple. At the centre of the walled city is the Bayon shrine with large carved faces adorning the sides of its 54 towers. The Bayon is one of the strongest temples at Angkor. You will be greeted by numerous smiling and enigmatic faces in the tower of the Buddhist sanctuary.
Ta Prohm:
Wander through the labyrinthine, decrepit mazes, shrines, platforms, and clamber over collapsed masonry and duck through caved-in galleries of this temple. You will find alcoves, spires and walls lined with carvings of sensuous celestial nymphs. Gape in wonder at the towering kapok trees growing from its terraces and walls, their marauding roots intertwining with stonework and sculptures, clinging to the walls, framing doorways and tearing apart giant stones. This Tree- Strangled Temple is on a single level, with closely spaced galleried enclosures in the central area. None of the 39 towers are intact and many of the structures are undergoing restoration work to ensure that no further damage is done.
Popularly known as Tomb Raider Temple or Angelina Jolie Temple, it is one of the most magical and photographed ruins in the Angkor area. It was built by Jayavarman VII as a Mahayana Buddhist monastery and University.
Shopping Spree
Visit the Old Market which has a wide range of traditional and modern items. Look around for baskets, silver work and musical instruments. Stroll through the day and night markets and art stalls around town and you will find an array of traditional wares like silk clothing, handcrafted furniture, ornaments, jewellery, wood and stone carvings. The Artisans d' Angkor is an excellent place for Cambodian handicrafts, lacquer ware, souvenirs, textiles and art.
Things to do
| | |
| --- | --- |
| | After the shopping spree, you can treat yourself to a Khymer massage or a fish pedicure on the sidewalks. |
|   |   |
| | Take a boat cruise on the Tonle Sap Great Lake, South East Asia's largest freshwater lake, a UNESCO World Biosphere Site and a major bird sanctuary. Catch a glimpse of the unique life in the floating and stilted villages. |
|   |   |
Binge on this
Try the Fish Amok, national dish, made from fish, coconut milk and curry paste. Don't miss Samlor Machu Trey (sweet and sour soup with fish), Char Kroeung Sach Ko( stir fried lemon grass beef), Nom Banh chok (Khmer Noodles) topped with green fish curry, lots of fresh vegetables including cucumber, green beans, mint leaves and banana blossom and bean sprouts, Bai Sach Chrouk (grilled pork broken rice), Kuy Teav (noodle soup), and Lok Lak (stir-fried beef in brown sauce), a typical traditional Khmer dish.

We recommend
You can experience a night of culture and catch a performance of the exquisite, classical Apsara dance while you have your dinner. The elegantly dressed dancers will entrance you with their slow and figurative set of gestures and poses.