SOHO Sweet: Concept of Work from Home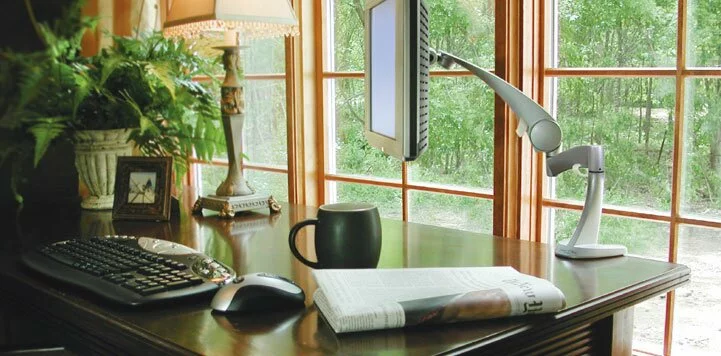 The freedom and flexibility necessitated by today's lifestyle has spawned the concept of working out of home. In the absence of fixed working hours, it is possible to schedule one's work for the times one feels most productive and mentally available. And if you are one of those people, then SOHO is for you.
What Does SOHO Mean?
SOHO, small-office-home-office can be a business that is run out of your residence from an established office within the space. A small office/home office, with a few employees, is a micro enterprise and is categorized one notch below a 'small business'. Typically, SOHOs are focused on white-collar jobs.
SOHOs are also popular with people who prefer to individually work out of home. In an age where work -life balance has become imperative, what can be better than a SOHO, not even a hop-skip-and-jump away¬¬-- just at an arm's length? A SOHO can be just about anywhere. It can be the little corner of your living area or bedroom or below the stairs or your balcony with a great view or inside a cupboard, neatly tucked in!
SOHO is also becoming employer friendly. Here is a system where there's no need to provide office space, which obviously means cutting down on various infrastructural costs and lower stress levels of employees which enhances their output. For the employee, it saves time and energy to commute to work and provides more freedom to organize one's professional and personal time. Today, with the kind of communication networks available, millions of people worldwide are using this option. Research says that this is also becoming popular with the increasing health awareness around the world. When you work out of your own home, diet and timing are within your control.
The concept of working at home is many people's fantasy. Let's look at all that you get to save on: expensive office attire, fancy accessories, avoiding office gossip and troublemakers, and not having to get into traffic snarls! SOHO rules!
SOHO as a lifestyle:
First, you must establish your work habits and how you perform better. This is vital because most people work better in a structured and more appealing work environment. Self-motivation and daily discipline are crucial, if SOHO is your option.
Designing your own SOHO?
The utilitarian designer strictly follows the fundamental rule of Form Follows Function! Here are lists of things that need to be taken into consideration before setting out to create your own SOHO.
Functional aspects to be taken into consideration:
1. Understand Nature of work:
How much floor area is required is very dependent on what you do professionally. How much space you would require performing the activity on a regular basis, how much surface area, work area and storage area are required to ergonomically work out of a SOHO, is the next step, which will help you choose the location within your home. Also, the privacy factor should be taken into consideration at this stage.
2. Identify and invest in fitting furniture:
SOHOs need a clear working area, however small. Many things need to be taken into consideration while designating a space. Personal choices such as desktops vs. laptops, printers vs. 3-in-1 systems (printer, scanner and copier), file space, reference library, accessories and stationery etc. will determine the kind of furniture required based on how much space is actually available. Clarity at the beginning is the key, as later additions introduce complications unless there is an abundance of space available. Furniture needs to designed or bought based on this.
3. Designating proper work centres:
Where computer and office products are used, a reference centre may be set up which could be shelving space for reference materials and a supply centre which will store the office accessories and stationery.
4. Positioning of the Hardware and Peripherals:
Frequency of use would determine this factor. Depending on the nature of your business, usage of a desktop and the positions of the printer and other equipment can be decided upon. Legroom and access to storage such as drawers and shelving systems are very important.
5. Wire Management & Data Cable Management
Managing your electrical outlets, wires and data cables from day one will save you the headache of trying to get reorganized later. You should avoid having loose wires hanging around. This is both for the sake of usability and safety.
6. Set up work systems:
The process involved in one's business/work will need to be factored in as well. Positioning of files and documents, access to stationary etc. are dependent on the workflow.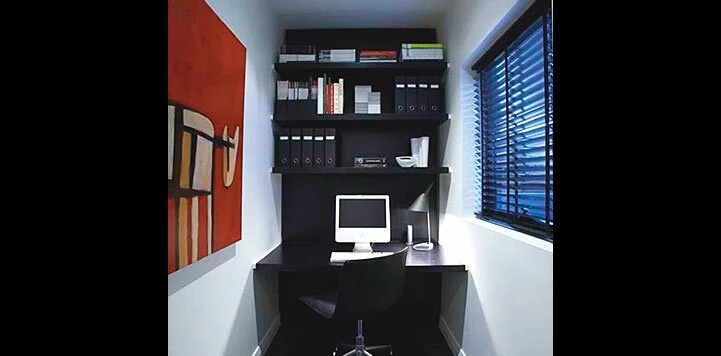 Form & Aesthetic aspects:
Fundamental elements of colour, space, line, form and texture will determine how a SOHO can be put together aesthetically. Here are a few pointers that will assist in the direction.
1. Is the SOHO a part of a living space vs. isolated space?
This would determine the décor and the design elements that need to be taken into consideration. If it were a part of a living area, the design elements would need to flow typically so that this does not stand out, unless that's the requirement and if it's an area by itself, the freedom to explore is higher.

2. Open or closed design approach
Within the SOHO, you have to decide if it's an open concept or a neatly tucked in office, which will be used only when required. When it is an open concept, challenges such as maintenance and privacy also need to be taken into consideration.
3. Design style and approach
If representing an organization and working out of home, it is possible that you might want to keep with the corporate colours. These come in handy when and if you are on video conferencing. However, if this is your own business, flexibility to get creative is higher.
4. Other design elements
Accessories, artworks and other artistic hints always add the finishing touch to any space. May it be some art prints, interesting pen stand, the bamboos recommended in Feng Shui or the money plant or maybe just a bunch of fresh flowers, these add character and colour to an otherwise routine workspace.