Bangkok has been a dream destination for most world travellers. The city offers myriad options for the travel buff in you!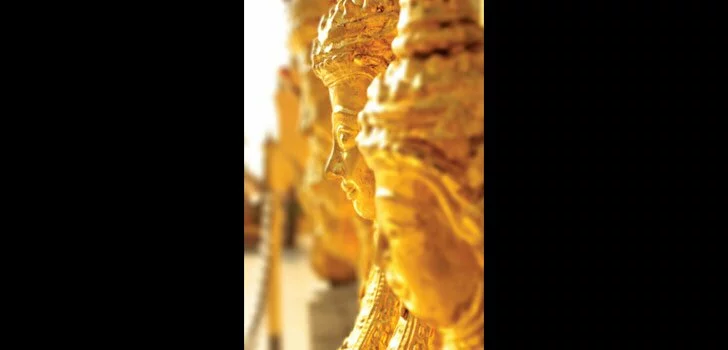 The excitement and buzz at Bangkok's Suwarnabhumi airport is infectious. The smiling staff, clean environs and bustling energy of travellers at the airport will get you supercharged for a fun-filled vacation with a good doze of retail therapy!
Where
Bangkok, the capital of Thailand, lies in the delta of Chao Phraya River in Central Thailand. Bangkok is not only the largest and the most populated city in the country, but also the economic, fashion and commercial capital of Thailand.
How to get there
Bangkok is very well connected by air. There are daily flights to Bangkok from all major airports in the world. Several Thai airlines, including Thai Air and Bangkok Airways operate daily flights. Thailand is 1.5 hours ahead of India.
Weather
Bangkok enjoys a tropical climate with three distinct seasons-hot and dry from February to May; rainy with plenty of sunshine from June to October; and cool from November to January. The climate makes Bangkok and Thailand a year-round tourist destination.
Must See Must Do
The Grand Palace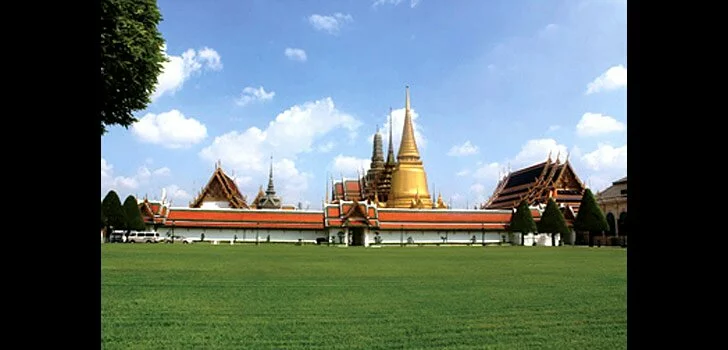 The colossal and sprawling Grand Palace is Bangkok's most significant landmark. Built in 1782, the palace has been the residence of the Thai monarchy and is the venue of several royal and government ceremonies.
The palace complex, which is situated on the banks of the Chao Phraya River spreads across 2,351,000 square feet. The architecture, spectacular carvings and the never-ending gardens are exquisite. The palace has outer and inner courts, museums and the royal residence. It is partially open to the public. Plan your day as you may end up spending the entire day in its beautiful premises!
The palace is open between 08:30 am - 15:30 pm on all days. Tickets cost around 200 baht and include entry to the Vimanmek Palace and Abhisek Dusit Throne Hall. Follow the dress code while visiting the palace. Men must wear long trousers and shirts. Women should avoid shorts, T-shirts or dresses with bare shoulders. Carry a pair of socks if you are wearing flipflops/sandals. The dress code is applicable for visits to all temples and palaces.
Wat Pho (the Temple of the Reclining Buddha)
The majestic Wat Pho temple is the largest temple in the city. The sheer size of the 160-feet long golden reclining Buddha will take your breath away. Don't miss Buddha's feet, which are embellished with 108 illustrations (Lakshanas). The temple has more than 1,000 images of Buddha.
While you may be lost in the beauty of this temple, interesting titbits and historical information will complete your trip. Hire an English-speaking guide. You can also indulge in some palmistry and astrology at the temple. The temple is open on all days between 8am and 5 pm. Entry fee is about 100 baht.
Wat Phra Kaew (Temple of Emerald Buddha)




The Wat Phra Kaew is considered to be one of the most sacred shrines in Thailand. The temple has several beautifully carved buildings, pagodas and gardens. The temple consists of a Buddha statue carved out of a single jade stone. You will be spellbound by the beauty of the statue. Legend has it that the Emerald Buddha, which was made in India, travelled to Sri Lanka and Cambodia before reaching Thailand.

The temple premise has murals depicting Ramayana. There are verses describing the story. You will be overwhelmed by the huge 5-metre tall statues (also called Yaksa Tavarnbal). Hire a guide for a full download of the history of the palace. Admission fee is about 200 baht. The temple closes at 3.30 pm. Therefore, arrive early to savour the beauty without hurry!

You can spend your entire vacation visiting palaces and temples. Be sure to include Taksin's palace, The Phra Palace, Dusit Palace, Bang Khun Phrom Palace and Sra Pathum Palace among others in your itinerary.

Madame Tussauds
Fretting about not making a visit to New York, Las Vegas or London to visit the world famous Madame Tussauds wax? Well, you can fulfil your desire in Bangkok! Madame Tussauds draws visitors from all over Asia and the rest of the world.

The museum has an interesting line-up of Thai royalty, Asian and Indian celebrities and global personalities. Madame Tussauds is located on the 6th Floor of Siam Discovery and is easily accessible by taxi, train or bus.

The museum is open from 10am to 9pm. Tickets are priced at 800 baht for adults and 600 baht for children/seniors. The website http://www.madametussauds.com/Bangkok/en/ offers seasonal discounts and early-bird offers. Check the website before booking. You can take pictures with the personalities for free. However, you may have to pay for pictures with some exclusive exhibits.

Chao Phraya Dinner Cruise
After endless hours of shopping or visiting monuments, a cruise on the Chao Phraya is a great way to unwind. There are several cruise options – from affordable to super-luxurious. You can contact your tour operator or hotel to make bookings.

The cruise in the evening gives you a beautiful glimpse of the Grand Palace (in all its lit-up glory) and other important monuments. There are live bands and singers on the cruise, who will entertain you with great music (including Indian chart-toppers!) The food is eclectic with a choice of international cuisine, including Indian.

Retail Therapy!
Bangkok is known to be one of the best shopping destinations in the world. From buzzing street markets to glitzy malls, it is simply too good to be true when it comes to retail self-indulgence. So, all you shopaholics, read on for some interesting shopping haunts in Bangkok!

Chatuchak Weekend Market
Your visit to Bangkok is incomplete without a trip to Chatuchak weekend market. The market, which is spread across 27 acres, has more than 15,000 shops selling artefacts, plants, clothes, furniture and hand-made wares. The market attracts visitors/tourists from all over the world. If you are in Bangkok on a weekday, you can still visit the market, although the variety of products may be limited. Check http://www.chatuchak.org/ for timings.

MBK Mall
If you have a huge shopping list, then MBK Mall is the place to go! The mall offers a wide range of products under one roof – electronics, clothes, bags, shoes, homeware and gifts. It is a great place to spend at least a couple of hours, indulge yourself and also buy great gifts for your friends/ loved ones. There is also a big food court on the top floor offering everything from authentic Thai to Burger King and Pizza.

Platinum Mall
Have you ever dreamt of walking into a never-ending paradise of clothes, shoes, bags and accessories? Platinum Mall is that paradise on Earth! This place has amazing variety to choose from. You will also find great imitations of big brands from Gucci and Jimmy Choo to Cartier and Rolex! And, nobody will blame you for going berserk!

Indra Market
Most tourist guides and tour operators will direct you to Indra Market. This shopping destination is a series of small, makeshift shops selling t-shirts, bags, shoes and everything else under the sun! Make a visit if you are looking for cheap bric-a-bracs to take back home. Else, you will find better quality at MBK or Platinum mall.

We Recommend
After a tiring but fruitful day of shopping, don't miss a relaxing foot massage. And, don't forget to pick-up authentic Thanu or Naraya handmade bags as souvenirs. Bangkok is a street-food paradise. You can also choose from several Indian restaurants in the city. It is advisable to wear good sturdy walking shoes or sneakers as you will have to be on your feet for hours. Brush up on your bargaining skills! You will need it at every shop you visit. Keep a mini calculator in your purse. And, enjoy a ride in a Tuk-Tuk before you leave!

Bangkok will appease your travel senses in every way possible! You will come back with loads of goodies and lingering memories of a city with hospitable and courteous people!