Scotland of the East:
With its spectacular sunrises,pine-covered hills, green lakes, polo ground, championship golf course, Victorian bungalows, churches, singingbrooks and crashing cascades, Shillong, the capital of Meghalaya has earned the sobriquet, the 'Scotland
of the East'. Picnics, boating and day long hikes are punctuated by leisurely shopping. The British favoured this charming hill station and their influence is discernible in the names of the waterfalls which abound here. It derives its name from the deity
Shyllong or Lei Shyllong which is worshipped at the Shillong Peak, 10km from the main town and 1965 metres above sea level.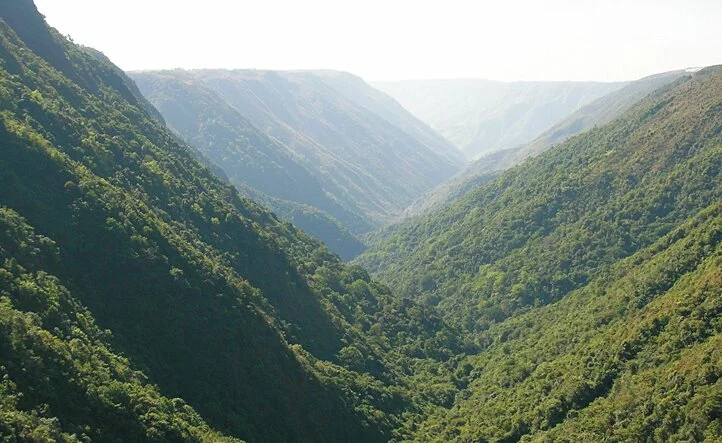 Where:
Cradled in the rain shadow of Shillong Peak at 1491 metres above sea level, flanked by Mawpat Hill in the north and overlooking Lum Diengiei further west, Shillong lies in the midst of idyllic surroundings.
How to get there:
Nearest airport is Umroi (35km) Nearest railhead is Guwahati (103km) Road: From Guwahati drive to Jorabat on NH 37, then take the Guwahati-Shillong Road (NH 40), a scenic drive. Weather: In summer, the temperature ranges from 15 degrees C to 25 degrees C, and in winter, from 4 degrees C and 16 degrees C.
Best time to visit:
September to April. Although people avoid the rainy season, it is generally the time when the waterfalls are in full spate.
Must see must do:
Umiam Lake
A beautiful lake north of Shillong, resembling the 'Lochs', or lakes of Scotland is a must-see for all tourists. This lake was created as part of a hydroelectric project and is better known as 'Barapani' (big water) for its sheer size. There is a water sports complex and a garden (Lum Nehru park) close by. One can hire boats to splash around the placid lake.Don Bosco Museum of Indigenous North East Culture Run by the Salesian order of the Catholic Church, the Don Bosco Museum is the largest cultural museum in the whole Asia. It is a truly amazing repository of information on the entire North Eastern states. Located within the precincts of the Sacred Heart Church, Mawlai, the edifice itself is distinctively shaped like a spiral. It has an amazing collection of attire, accoutrements, weapons,ornamentation and rare photographs.Lady Hydari Park The Park has manicured lawns, variety of local flowering plants and orchidsIt also has a small zoo within it.
This is a popular picnic spot for local population. Shillong Peak For those who need more enervating exercise, there is the Shillong Peak to climb with its summit of 1965 meters, affording a splendid view of the city and its outlying environs on a clear day. In the evening, the city lights below glitter and twinkle like a giant Christmas tree. It is host to a radar station for Indian Air Force and tourists are cautioned not to take pictures of radar facilities.Waterfalls Shillong and its environs resonate with the sound of thundering waterfalls that hurtle downhill slopes, spraying its surroundings with a delicate mist of water. Mawsmai Falls, Nohkalikai, Elephant Falls, Bishop Falls, Spread Eagle Falls, Sweet Falls, Crinoline Falls and Beadon Falls are the well known ones.