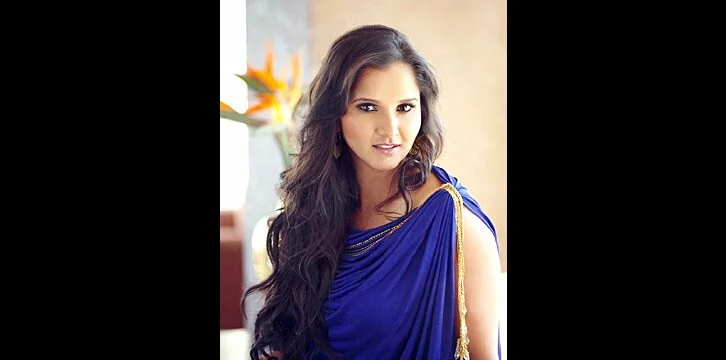 'Tennis started out as a hobby; it was not a conscious decision to be a tennis player'
"We are a family of four: dad, mum, my younger sister and I. We went to America when I was 4, we lived there for a couple of years, and after we came back to India I started playing tennis because I loved the game but it started out as a hobby; it was not a conscious decision to be a tennis player." Did the fact that her father was a sport journalist have anything to do with the decision? She denies this vehemently. "No! I think sports have always been very important in our family, though not all have played at the most professional level. We had lots of cricketers in our family, my dad was a good cricketer who played at the university level but he could not pursue the sport as he lost his parents when he was 21. Hence he wanted his child to take up a sport and play it with passion."
Sania went to Nasr School, and was a brilliant student. "I was a bit of a geek. I was a very good student because of which I really did not want to take up tennis as a serious career because I did not want to miss school. I would actually cry that I wanted 100 percent attendance," she claims. "I had to score over 90, even 80s were not acceptable. So in my 3rd grade my mum came and spoke to my principal that I was not going for a tournament because I wanted 100 percent attendance."
'The realisation about taking tennis seriously dawned at 12'
At the age of 12 she found herself at the crossroads having to decide between tennis and academics. This was when she took a conscious decision to choose the former. "When I was 12 I played the under 14 and under 16 nationals and that is when I got my first sponsorship from Adidas. This instilled confidence in me. Before that I just used to play for fun." The realisation was sudden but definite. "I foresaw this was what I wanted to do in life, because I had to choose between being a 90+ student and being a professional tennis player and it was impossible to do both together." So Sania started her training at Nizam club under her first coach Srikant (who is no more), after which she had different coaches. Incidentally, she played her first international match in Pakistan (Islamabad) at the age of 14. She went on till the finals, but did not win.
'I was adamant on finishing school so I had to toggle between tennis and books'
For someone that young how easy or tough was it to manage school and sport? "My school was very supportive and they let me come in after the assembly so I used to go for the practice by 6 and get to school past 8:30 am. School used to get over at 1:30, and I used to change in school, have my lunch in the car as the drive for my practice took nearly 2 hours. From 3:30 to 7 I used to practice and crash by 9." For many years Sania had not seen life past 9.
In spite of her hectic schedules, she managed to complete her studies as she had a photographic memory that helped to a great extent. "I was adamant that I wanted to finish my education so I had to toggle between both. I passed my 10th grade with 64% and 12th with 62%," she affirms. Was she ever tempted to miss practice and wanted to join her friends? "I wanted to go for school excursions but I could not because I would miss practice for 3-4 days. Similarly going for movies or even attending birthday parties, I always would get tempted to, but I had made a choice to play tennis so I had to resist temptations." This dedication is what helped her become a two times Grand Slam champion and India's No. 1 tennis player for over a decade.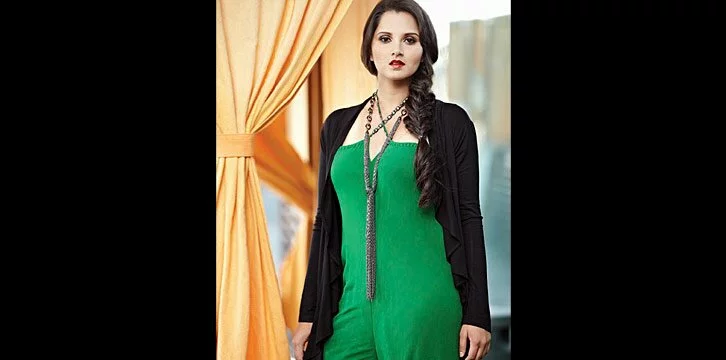 'If I say home, the first thing in my mind is Hyderabad'
What role has her home city played in her ascension? "If I say home, the first thing in my mind is Hyderabad: whether it was the government or whether it was the city in itself, whether it was the love that I was given. Time and again I have been called the favourite daughter of the state. All these things mean a lot to me. When I won the junior Wimbledon and returned there were 5000 fans to receive me at the airport, that is why this is Hyderabad for you and that is why this is home for me."
'The ugliness of the Olympic controversy took away some fans from tennis'
The inevitable obverse of all positives in the game is the negatives which constantly vie for attention. For someone as dedicated as Sania how was it to court an Olympic controversy and the AITA reactions? "Whether you were involved or not, if you are Indian you do not want to see any sports go through that. It got messy. It was unfortunate, the whole incident is something I hope is not repeated; it took away some fans from tennis. It did not show anyone in good light whether it was the administration or the players. At that point I had to take a stand since I was dragged into the whole thing. It was too dirty to get involved in and drag it further. It came to a stage where everyone had to say something. We went through mental trauma, trying to play Olympics and trying to play Wimbledon at that time," she says with her characteristic candour and a tinge of disappointment.
'Fortunately or unfortunately, we retire young so it gives us time to do different things'
It is quite unimaginable to talk about Indian tennis sans Sania but answering the what-if conundrum, if not for tennis what would she have pursued? "This is something that I have done all my life, so I don't see being something else. I do love doing other things. At one point I wanted to be an interior decorator, which I probably will be after I am done playing. Fortunately or unfortunately, we retire young so it leaves us with a lot of room to do different things. I like entrepreneurship. I am starting my own café and tennis academy in Hyderabad," she mentions. She elaborates, "The resto-lounge is called Ristretto. It has a pool table, a private party place, a Bollywood Tollywood themed area, and a sporty place that has huge screens to watch cricket and football matches. It about 10,000 sq ft and I want to keep the place open till late hours making it a favourite and happening hangout."
The tennis ace also wanted to release her autobiography earlier this year but now it has got pushed for a later release. So do readers get to know all about Sania through this book? "Yes! It will have everything, starting from when I was 4 and how we could not afford a lot of things, to the controversies about me, my nose ring, my tee shirt and so on," she explains. The autobiography is tentatively titled Against All Odds.
Tennis matches, resto-lounge, autobiography and planning a tennis academy (that she is set to open in February 2013), Sania has her hands overflowing with ventures. Where does she find the time and energy to handle all this? "I am very fidgety. I keep moving my feet. I cannot sit still and love doing different things. And at some point I know I will not have tennis to fall back on and I have to start building on what I have to do for the future."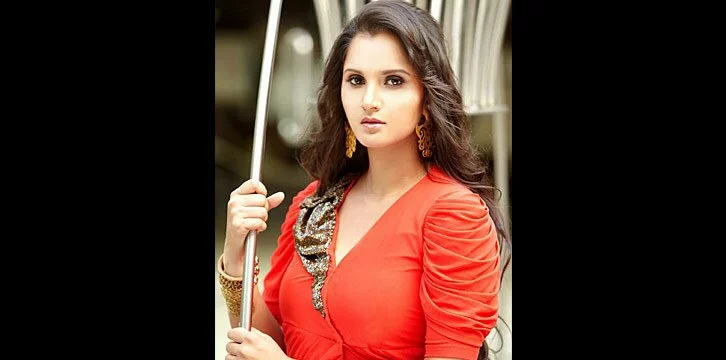 'When we fell in love the last thing that came to our minds was which country we were from'
Talking of her future with hubby Shoaib Malik makes her blush like a schoolgirl as she gives us a sneak peek into her romance. "I have known Shoaib for a very long time. I met him the first time in Delhi when India was playing Pakistan in 2004 and then we met a couple of times but very socially with friends. The real sparks flew in Australia; they were playing in Hobart and I was playing in Hobart too and that is where we met and started talking. That set the ball rolling and there was no looking back," she says. So while they were seeing each other did they anticipate any problems for their cross border romance, from families or the general public since both are celebrities? "The most amazing part of sport is that it brings so much peace into the world. When the contingents arrive at the Olympics, the big global village, it does not matter what religion the players belong to, what colour they are, which country they come from, they live, eat, bathe et al in one compound. Whether you are from warring countries or friendly neighbours, you still could be staying next to each other and you see each other everyday for 2 weeks. The last thing that comes to our head when we see a person, or judge a person, is his or her ethnicity. Similarly, when we fell in love the last thing that came to our minds was which country we were from. And it was really as simple as that. My parents are very liberal and they have supported me and my sis in all our decisions."
We couldn't agree less. The wedding though turned out to be a spectacle, and she had to be indoors for over 6 days. What did she go through then? Sania's schoolgirl grin is replaced by a gravity defying her age as she says, "It was extremely stressful, the last thing on my mind was how I am going to look on the wedding day and that is so unfortunate because that is the main thing that should be on every bride's mind. Even though we were really happy, the media and other vested interests made it extremely difficult for us to deal with it mentally and emotionally. But amidst all this, Shoaib was extremely calm considering the pressure was probably more on him and at that point we got really close. We were going through things probably most relations never go through or go through after many years of marriage. He got very close to my family at that time. At the end of the day I married the person I love and he married the one he loved."
'Shoaib proposed marriage in the first month of our dating days'
Sharing some of the most romantic things Shoaib has done during their dating days and later, she gets back into her blushing teenage avatar and gleams, "When we were dating, on our first month anniversary, he sent me a pink stuffed toy with a little note ('I can't tell you everything that he wrote,' she grins) which read, 'I want to marry you, whether it is today, tomorrow, end of the year, next year or 10 years later, you let me know'. Post marriage I can recollect he had given me a ring on our wedding, it was about 4 carat. And he wanted that ring just a few days before our first anniversary. He did not tell me why he wanted it. On the day of our first anniversary he gave it to me saying here is your ring. I opened it normally and put it on; then I was puzzled as it why looked bigger. So he had actually had the ring remade but it was seven and half carats now."
'It does get hectic but we manage our schedules'
Now with their hectic schedules do they ever get to spend quality time together and do normal things like going to the movies/ dinners, cooking for each other without discussing cricket or tennis, she says, "It does get hectic but we manage our schedules. We've been travelling in different directions but we meet up and spend time together. As far as sports is concerned, as husband and wife we know what to say when a person wins a match or loses a match." So has Sania learnt lot more of cricket now? "I liked cricket, I loved cricket, and that is how I met him at an India Pakistan match. I never followed Pakistani cricket before, but now I do," she says.
'Sports is a great leveller; it teaches you never to give up'
Sania has given so much to Indian tennis. She feels she has been richly rewarded for her contributions. "The sport has helped me get so much love from the country. It has imparted a sense of stability to my mind and given me complete satisfaction. But most importantly it has taught me never to give up after losses and that there is always another day, and no matter what happens, you can come back and try to win again. That is the beauty of sports: it is a great leveller; it teaches you to never give up. It is simple basics, but I learnt this philosophy practically, because I have to do it day in and day out. Sometimes we have to play two matches back to back. If we lose we have, to come back and play in the next two hours we have to gear up and forget the earlier loss and just carry on. The rejuvenated spirits give us the impetus to win the second match and the balance is restored. So this game has taught me that there is always another chance."
Midway through her tennis journey how does it feel to look back? "If someone told me at the beginning of my career that I will achieve all this, being numero uno in the country, being the only Indian to be ranked in the top 30 in the world in singles I would have scarcely believed a word. It still feels like a dream. To win at the Asian Games, Commonwealth games and the Afro Asian Games were new highs indescribable in words. I am grateful to god that I was the chosen one and to my family for supporting me unconditionally."