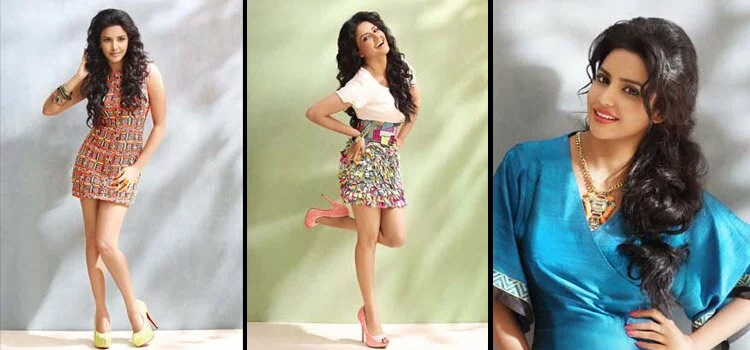 "My mixed ethnicity helped me adapt"
Priya has had the best of 3 worlds. Her mother who is a Tamilian and her father who is half Maharashtrian and half Telugu have had a huge influence on her personality. "I was born in Chennai. My mother was here only for my birth and soon enough we left for Hyderabad. I grew up in Hyderabad and returned to Chennai after a long time. I was studying in a school in Chennai when my stay was cut short as I had to move to the US." Although she spent most of her mid-school days travelling back and forth, she somehow seemed to have caught up with all the adapting. Her flair for picking up languages is a plus. Priya is fluent in Tamil, Telugu, English, Marathi, Hindi and Bengali.
"Childhood was full of crazy moments"
Priya says her childhood was filled with fun. "There have been a lot crazy memories and I can say happily that I got to live my life as fully as a kid could. I got to play around and make friends; I love the scars that I have gotten falling all around the place while playing, jumping, running and cycling and everything that a kid would do. I have so many fond memories of vacations with family and the friends I made, and I am still in touch with most of the wonderful people I met back then. It may seem hard to believe, but I have had the same best friend since I was a kid."
"Moving to the US was not a culture shock for me"
When Priya was in her early teens, her family migrated to the United States of America. However, studying high school in a new environment, especially a foreign one did not seem to be that much of a culture shock, she says. "I was in the US for my high schooling and graduation. Before I left I did not have any preconceived notions about how life in US would be like. Everyone talks about what a culture shock it is to go to the US from India but I did not feel any different. I think it is mainly because of the kind of friends I made and the supportive family I have. I had a lot of relatives there too so overall I was just surrounded by such warm and caring people that I was ensconced in a secure and loving world. Even the friends I made in college were very sweet and they were all good days."

"I was glad to be rooted"
After all the back and forth travelling in India, Priya was quite happy to stay put in one place, especially in the US as the culture was simpler there. Of course, the initial resistance to a new place was evident. "In the beginning, I missed everything about staying in India. I was extremely adamant that I wanted to move back to India. I missed my grandparents a lot, who were back home.
"But after the settling-down pangs had passed, I was just a kid going with the flow and loved my stay in the States. The standard of living is good, the people are kind and basically there is value for human life there. Even during high school and college we were all trying to get part time jobs and make some extra money and I came to love that independence. I ran errands, did odd jobs like gardening and selling lemonade, and felt glad to be part of a 'normal' American upbringing. I used to work at the mall when I was in college, and working at such a young age was a huge eye-opener. I learnt about the dignity of labour very early and that is helping me a lot with my career even now."


"Cinema was a distant dream"
After a 10 year stay in the US, she returned to Chennai but stepping onto the cine soil was a distant dream for Priya. With absolutely no background in media whatsoever, she admits it was like a cat on the wall experience. "No one I knew had any connection with films as such so it was all quite new to me." Having a diverse background and a diverse upbringing has paid off well for Priya Anand. The fluency in several languages became a plus point for her portfolio. "I have had so much exposure in every way possible. I have lived in the most developed city and the least developed village. All of my life experiences have been added advantages in my professional life." After having studied business journalism and communications, Priya Anand came back to India and became director Shankar's assistant.

"I knew I had to get my portfolio done"
It was during Shobana's dance recital that the coveted call came. "It was the December music season in Chennai and I was watching Shobana's performance when Priya Manikandan, ace cinematographer Manikandan's wife, came up to me. I did not know who she was and neither did she know me, but she just came up to me and started talking about taking up modelling or acting. I initially thought it was a very funny thing to suggest but the more I thought about it, the further I was convinced and I knew I had to get my portfolio done. I started looking up magazines, doing my bit of research and arranged for my portfolio to be done. I started Googling information on photographers in Chennai and zeroed in on a few and started getting my shoot done."

"I had to convince my parents about my career choice"
Treading new waters was never a problem for Priya but her parents were not too keen on letting her do so. "My father was actually very concerned from the beginning. Having been adjusted to an American way of life, he was worried if moving back to India was the right thing to do and if I would adapt to the past environment here. He was worried if I would be comfortable here, but once I started voicing my opinion it all changed. I explained to them the pros and cons of the career and since I was so clear about what I want, they began becoming supportive. My family as such has always been very supportive of my decisions and what I want to do in life so getting my parents to understand my point of view was not too hard. They could also see that I have my decision made and I am fully responsible for my actions so they were more than willing to give me a chance."

"Pugaippadam was supposed to be my debit movie"
Although Vaamanan was the first movie of Priya's to release, it was not the first movie that she signed on. "I had gotten a lot of offers once I had decided to take up movies but the first project I signed on was Pugaippadam." Directed by newcomer Rajesh Lingam, the movie's cast and technical crew mostly comprised of fresh faces. "The experience of shooting for Pugaippadam was so much fun. Everyone was new to the industry then. It was a new director, cameraman, producer and actors. We were like a bunch of kids, enthusiastic about trying to do something in life. We were also shooting in Kodaikkanal for a month and a half so the weather was awesome and we had a lovely time there." Halfway through shooting for Pugaippadam, Priya signed on Vaamanan.

"There was no one to criticize us"
Talking about her first shooting experience Priya shares, "Since the entire team of Pugaippadam was new, we did not have anyone who could teach us right from wrong. We did not have anyone who could guide us or even criticize us. Everyone was just doing their job but we sorely missed the guidance that an experienced person could have given us."

"Arvind Krishna helped me with my role in Vaamanan"
Talking about her experience in her debut movie Priya avers, "Vaamanan felt a bit like a beginner's project too because I had to work with Jai who had just gained fame for 'Subramaniapuram' and was still a bit new. I had to play the character of Divya who is a girl next door. The truth was that I was not like Divya at all; indeed she was very different from me. But I had the help of Arvind Krishna (cinematographer) who I knew earlier through some commercial I had shot and there was Yuvan Shankar Raja, who made the movie a mass hit with his music."

"The Priya Song is just so…me"
It was indeed Yuvan's creativity that made the song 'Aedho Saigirai' from Vaamanan a huge hit. It is still publicly referred to in Tamil Nadu as 'The Priya Song'. Aesthetically shot, the number comprises of melodious tunes and slow beats. "I keep reliving the wonderful experience of shooting the song when I hear it. It is three years since the release of the film and the song still gets airtime and is constantly played everywhere so I am completely proud of it."

"Shooting for Leader was unbelievable"
"I signed on AVM's Leader when Vaamanan was in progress. Someone saw me on Facebook and called me for audition and that is how I landed the part. Though the movie was a bit serious, my character in the movie was prone to being a bit naughty so I had a lot of fun. Director Sekhar Kammula is one of the best directors of Andhra Pradesh and I was excited to work with him. The movie also marked the debut of Rana Daggubati." Talking about her co-star she says, "Rana was very funny. We are really good friends and I was his first heroine so we gelled pretty well and we made a lot of fun of each other."

"I am fine with sharing screen space"
In the case of Leader, Priya shared screen space with Richa Gangopadhyay. "I do not think I can be successful only if I am given lead roles. I am very confident of myself as an actor and a performer so I have no issues with sharing screen space with another actress. Whether it is a small part or a big part, I am not insecure about anything so I put my attention into making sure I give my best." Priya believes her strength lies in the ability to showcase talent with ease. "I am a simple-minded girl and I do not demand much in real and reel life so I believe I am comfortable to work with."

"English Vinglish was an elating experience"
Once Priya got noticed in her Tamil and Telugu ventures, Bollywood soon came a calling. She was the lucky one to be chosen to share screen space with the legendary Sridevi in English Vinglish. "I got a call for audition; when I turned up I saw there were girls from all over the country. I was scared in the beginning but when I landed the part I was overwhelmed as I am a huge fan of Sridevi. It was like a dream come true. It was amazing to work with someone you have looked up to all your life. I was actually working with my idol! The movie meant a lot to her as it was her comeback film and I had quite a meaty role so I was very happy." However it did not feel like her first Bollywood movie at all quips Priya. "Sridevi is a south Indian, Balki the producer is a south Indian and then there was Ajith and me so it felt more like a Tamil movie than a bilingual one."


"Post English Vinglish, offers are pouring in"
English Vinglish seems to have become a big break for Priya. "I am getting so many offers from Bollywood now, it is unbelievable. Some of the biggest names in Bollywood now approach me and talk to me and recognize me." Priya is busy shuttling between Chennai, Hyderabad and Mumbai. Her next Tamil venture 'Ethir Neechal' and 'Ko ante koti' in Telugu are coming up by the yearend. "As of now I have three releases in 3 languages coming up. I am happy because I cannot be termed as a certain industry's heroine as I have balanced my schedule and am striving to do an equal number of movies in Bollywood, Tollywood and Kollywood. Dhanush is producing 'Ethir Neechal' so it is going to be unique for sure. I will soon start shooting for a Hindi movie 'Fukrey' with Farhan Akthar."

When asked to name her favourite film industry, she says, "I am the most comfortable in Telugu because the audience is most welcoming and I know Telugu like the back of my hand."


"The media has been good to me"
So far, with no controversy surrounding her, Priya thanks the paparazzi for being nice to her. "The media has been very respectful towards me and vice versa so I have not really heard any nasty rumours about me yet. I think it also because I just mind my own business and I don't drink or party. You cannot find me at a club or at a soiree. Most of my spare time is spent with friends and in enjoying the simple pleasures of life."


"I fall in love with every movie I am in"
Priya has been meticulously avoiding the dating scene but she does admit she has given some thought on how her Prince Charming would be like. "He should be very balanced, very creative and should have a lot of integrity. He should have a good relationship with his family like I do with mine," she says. So is there anyone in the distant horizon that fits the bill? "Where is the time to look? Right now I am having a romantic affair with cinema. I fall in love with every movie I make and every character I play!"