People




Rendezvous >

Mistress of Spices



She rules the culinary scene in Tamil Nadu. An expert cook, she is a familiar name down south and has a repertoire of numerous recipes. Meet Mallika Badrinath, cookbook author, cookery show presenter and entrepreneur as she gets candid about her journey so far, her first cookbook and many other interesting titbits. Anitha Ramachandran listens raptly over gooey badam halwa and crispy murukku.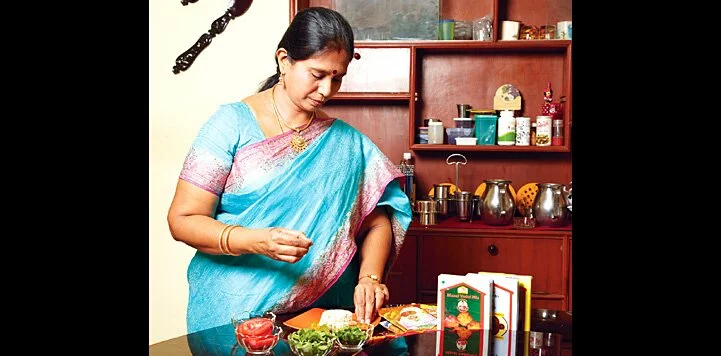 First Tryst with Cooking
Mallika who hails from a business family in Salem lived in a house which had 25 members. Interestingly, this amazing cook never entered the kitchen before her marriage. She quips, "Till marriage, I never had a chance to enter the kitchen as we had cooks and assistants. The elders in my family were very particular about the food cooked at home. The spices had to be added in a particular proportion and nobody was allowed to waste food at home. They were very orthodox that way but no one forced me to learn cooking." But being a home science student in college, she had to learn cooking and nutrition. As part of a college project, Mallika had to showcase her culinary skills. She prepared a balanced menu for her teachers which won her rave reviews. "That was the first time I cooked something on my own!" Mallika also wanted to study medicine and become a doctor, but her family being orthodox made her study home science, a course that was very popular then amongst devoted housewives-to-be.

Mallika's aunts who hailed from different places like Bangalore and Kolar always had interesting recipes to share at home. It was a time when there were no cookbooks or cookery shows on TV. "We used to exchange recipes through word of mouth amongst friends, relatives and neighbours. So, if I needed a channa masala recipe, I had to wait till I saw a particular friend of mine and then get the recipe." Mallika reminisces about everyone holding an old diary that had several handwritten recipes. "Even my grandmother had a diary which contained traditional recipes," she adds.

After graduation, Mallika had about a year's time before she entered wedlock. To spend time usefully, she started taking down all those recipes her aunts and grandmother had. "I had to prepare myself as a good and a capable housewife. I really could not enter my in laws' house without knowing anything about cooking!" Mallika went on a writing marathon for months after which 10 thick diaries were filled with avial and payasam recipes. "I loved my mother's preparation of mor urundai kuzhambu and my grandmother's godhumai (wheat) upma with curd. Back then, the preparation sounded complicated. Today, it's like a piece of cake for me!"

Childhood Memories
Living in a huge joint family, Mallika had several stories to tell us. "Every time my grandmother boiled milk, I used to lick the last portions of the thick milk that sticks to the vessel. That used to be my favourite. During summer, we cousins used to sit around and have sliced cucumbers and mangoes. Before Diwali and Pongal, we used to form a long queue outside the kitchen just to get the first taste of the sweets and savouries. Those were lovely days!"

Post Marriage…
Things changed for the better post marriage for Mallika though initially it did not seem so. Her husband was a coffee lover and poor Mallika did not know how to prepare a steaming cup of filter kaapi. "In my family, children were not allowed to drink coffee. So I never really got a chance to learn!" Soon after marriage, Mallika faced a challenge. "I was asked by my mother in law to prepare brinjal kuzhambu, an Andhra delicacy. She went off for a movie and I had the whole kitchen to myself. Honestly, I still don't know how I completed it as I had no clue about how much of salt and spices to add. But I somehow managed to come up with a tasty dish which everyone loved. Only I know the amount of nervousness that went into preparing it!" Soon after operation brinjal kuzhambu, Mallika slowly started experimenting with dishes which she claimed to be fun.

Her husband being a Chartered Accountant often travelled around the country. Every time he came home, Mallika suggested he have home cooked food. She started referring cookbooks and came up with interesting dishes. Her husband, a huge epicurean, often gave her suggestions. When she was alone at home, she had all the time and space to herself. "That was when I started entering the kitchen quite frequently. My husband used to compliment me for a particular dish and I had to go back to the cookbook and search for that recipe. So one day, I decided to keep separate cookbooks for different dishes- gravies, side dishes, rice varieties, tiffin varieties etc." Apparently, the side dishes recipes alone came up to 80. Mallika's husband suggested they print the recipes into a book and pass it on to their close circle of friends. "We printed around 1000 copies in 1988 and they sold like hot cakes within three months! It was a super hit and the book changed my life completely." She released a cookbook on egg recipes simultaneously. Rice delights and tiffin varieties followed. Soon, Mallika Badrinath became a household name and her cookbooks were bought by women of all ages.

Foray into Television
Mallika ruled the roost of cookery shows in Tamil Nadu for a long time and still continues to do so but her entry into television was by accident. "I had to accompany my aunt for a cookery show where I happened to get a chance to present a show on Doordarshan. I entered television in 1991 and later ventured into Sun TV where I became the pioneer in starting cookery shows." Back then, the shows were shot at her house. She used to send her children to school and then start shooting. "Technological advancements weren't much. So it took a whole day to shoot one recipe." So how was it to face the camera for the first time? "It was different! Facing the camera, explaining the recipe and concentrating on the cooking is challenging. The cooking time would be around 30 minutes, but the actual show would only be telecast for 10 minutes." The TV show 'Unga manasukku pidichadhu mattum' was a breakthrough in her career. Mallika presented the show for three years straight and the response was tremendous. Her next TV show 'Arusuvai Neram' was on air for 11 years with 1000 episodes. "I enjoyed all the freedom I received during this show as I got to decide the contents of the show."

Mallika the Entreprenuer
In 1998, Mallika started a small scale masala podi company where she prepared and retailed out the products. She sells powders like rasam mix, vathal kuzhambu mix, puliyogare mix etc. Today, they have their own factory and her husband takes care of the entire finances. "We run cookbooks under Pradeep Enterprises which is the publishing company and Mallika Home Products which sells masala podi." More than presenting cookery shows and being an entrepreneur, Mallika enjoys the role of a cookbook author. She says that writing cookbooks gives her immense satisfaction and the reach is more. "Brides to-be say they mastered cooking because of me. A lot of Indian students who live abroad use my cookbook to learn cooking. Commercially, my recipes have helped people start food related businesses. What more can I ask for?"

Culinary Queen
Mallika has presented more than 1000 TV shows and has around 26 cookbooks to her credit. "I bring out a book every year and all my books contain 100 recipes." Her latest book is about food for infants. The book apart from having interesting and simple recipes also contains nutrition facts and other trivia young mothers need to know. "My college education in nutrition has helped me immensely in my career." All her cookbooks have a different look and feel. Her cookbooks are of three different types- regular cooking, health oriented recipes and cooking for festivals. Mallika also makes it a point to share tips and how to overcome difficulties while preparing a dish. "Initially, I faced several challenges while cooking. So I make it a point to be very clear as I don't want my readers to face problems. It is only because of trial and error, I am what I am today. I have worked very hard to come to this position. Even now, I don't grumble about anything. I do things whole heartedly." This culinary queen still continues to cook at home along with a helper. Being a hardcore vegetarian, she does not cook meat. Known for her authentic Indian recipes, her two sons and their families are lovers of international cuisines like Mexican and Thai. "My daughters-in-law keep calling me to ask cookery tips every now and then. However, my husband and children never learnt cooking!" It is quite obvious that Mallika is a family person. "They come first to me, anytime!"

Traditional vs. Modern Cooking

"I always try to give traditional dishes a modern touch. I don't believe in taking the modern way as traditional cooking should not be forgotten. Even today, I prefer using both old vessels and the microwave. I make a plain idly interesting by stuffing it with vegetables and bread. But all said and done, microwave is a convenient gadget and makes cooking less tedious. After I introduced microwave dishes book, the sales of microwave started picking up in Chennai!"
Fact File
Favourite international chef: Nigella Lawson! Her cooking is wonderful and I love the way she presents cookery shows. I am a regular at watching her TV shows!

Favourite Indian chef: It would be Sanjeev Kapoor. The way he cooks is simple, yet nice. I got a wonderful chance to travel with him to Japan on a culinary tour. He takes special interest in learning new recipes, even when he is travelling.

One recipe you have not cracked: (laughs) Nothing, actually. When I take a fancy to a particular cuisine, I try to learn and master all the recipes under that.

On starting a restaurant: Though the thought did pop up, it never took shape. I already have enough on my plate. Starting a restaurant will eat away time and energy!

Favourite international cuisine: Mexican because it is similar to Indian food. I love fajitas.

Favourite dessert: Chocolate and Coconut Pudding

Signature Dish of Mallika: Vada Curry and Mint Squash

Mallika Badrinath's favourite recipe
MINT SQUASH - Ingredients
Finely chopped fresh mint leaves- 1 cup
Sugar- 1 ¼ cup (heaped)
Citric Acid- 1 level tsp
Salt- a pinch






Water- 1 cup
Green colour- as required
KMS (preservative) - a pinch
Preparation
-Wash and chop mint leaves.

-Sprinkle one or two teaspoons of sugar immediately on the chopped leaves.

-Heat water with sugar, citric acid and salt till boiling point.

-Add chopped mint leaves and remove from fire.

-Keep closed for 1 hour.

-Cool down and pass through fine muslin to remove dirt, and leaves.

-Add green food colour and preservative which is dissolved in warm water to the syrup.

-Fill in narrow sterilized dry bottles leaving 1 inch head space.

-This squash can be preserved for few months in a cool place.

-While serving, dilute with three parts of water. Chill and serve.
Note: This drink can be served as an appetizer an hour before a heavy meal.

Variations:
Lemon and Mint drink: Squeeze 5 or 6 lemons in the syrup after cooling down. Increase sugar to 1 ¾ cup or 2 cups as per individual taste.
Share your cherished memories, inspiring experiences, short fiction or your favourite recipes with our readers.

Write In