Laying Foundations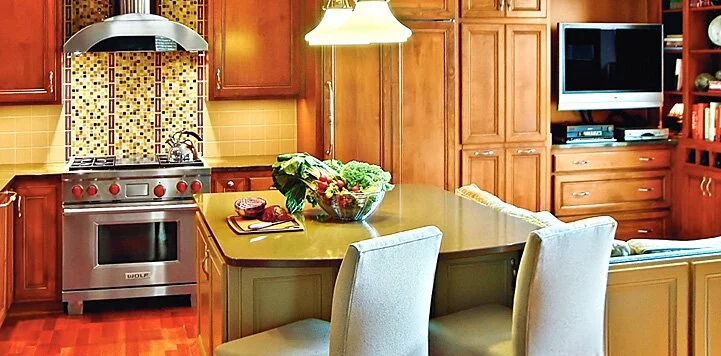 Tiles are a fundamental part of your house; they define the character of your living space, especially of your kitchen. So choose wisely and well
Poet and novelist Laurie Lee once famously said, "But our waking life and our growing years were for the most part spent in the kitchen, and until we married, or ran away, it was the common room we shared." The kitchen is, for the most part, the heart of a home. How many meals do families share? How many guests are delighted by your food? – The kitchen is part and parcel of your best memories of home. So it is important to decorate it the right way. Choosing kitchen tiles is not a shop-online kind of task. There are several factors to consider before taking the plunge. Here are a few of them:

The Milieu
First off, it is important to decide where you are going to place the tile. There are different tiles for different places and purposes. Some popular spots for tiles are on the floor, on counter tops, on the walls and behind the stove. The tiles that are decorative have to be more ornamental in nature whereas tiles for the floor or the counter-top have to be practical. Based on the purpose, you can choose the material, colour and finish of the tile.
The Material
Kitchens commonly make use of bamboo, quarry, cork, stone, vinyl, ceramic, glass and porcelain tiles, to name a few. Stone, quarry and ceramic are used in counter-tops and bamboo, vinyl and cork are common components of floor tiles. Glass tiles are largely used in wall tiling.
The Money
A budget is an important part of any home renovation project. Calculate the best and the most cost effective tile for you before planning the look of your kitchen. Some tiles are relatively inexpensive such as linoleum and vinyl tiles. For more discerning taste, ceramic tiles in custom designs are available.
The Practicality
Another important aspect to consider is the lifestyle that you and your family follow. For something as essential as flooring, try to pick a tile with the right amount of friction. This ensures that the tile is not too slippery. This is especially necessary in households with children – too many scrapes and bruises are incurred from running around and slipping. An elegant option is quarry, which looks sophisticated and has a slightly raised texture to it.