Kitchens today have been transformed into cheery places where one can cook in comfort or even enjoy a cozy dinner. Modern kitchens are aimed at making the best use of space, blending together aesthetics and functionality in the best way possible.
The Work Triangle
Universally, the take-off point for kitchen design starts from the work triangle which consists of the Refrigerator - the cold storage work site, Sink - the cleaning and preparation work site and the Stove - the cooking work site. If you place these too far away from each other, you are bound to waste a lot of steps while preparing a meal. If they are too close to each other, you would have a cramped kitchen without any place to work. The central idea is to balance these elements out.
WORK TRIANGLE BASICS
Each leg of the work triangle should measure between 4 and 9 feet in length.

The total length of all 3 legs should be between 12 and 26 feet.

The cabinets shouldn't intersect any leg of the triangle by more than 12 inches.

Care must also be taken that any major traffic flow shouldn't move through
the triangle.
Basic Kitchen Design
While there are many different ways of looking at kitchen design, the most popular ones are the U Shape kitchen, the L Shape kitchen, Island kitchen and the Galley kitchen.
The
L
Shape kitchen offers a lot of flexibility in terms of arrangement of appliances, storage, and counter space. The work itself should flow from refrigerator to sink to cooking and serving areas. It allows people to gather around the kitchen space without necessarily entering the kitchen. Another advantage is that this can be easily converted into an island kitchen, if you wish later.
The
U
Shape kitchen offers three walls of storage along with counter space and makes the kitchen an exclusive space. The work triangle concept works very well here. This can suit any kind of kitchen – small, medium or large.
The island kitchen is practical in kitchens with plenty of space. The island can be used to incorporate a simple table in the centre or go elaborate with custom-built cabinets and a sink or cook-top.
A galley kitchen is ideal if your kitchen is narrow. The entire work triangle is placed next to each other. This may not be capable of offering much below-worktop storage space, but this problem can be ironed out by installing a big storage cupboard at the end of the galley.
Open kitchens integrate the kitchen with the dining room. However, one must stick to the same style in both rooms or the kitchen would merely end up looking smaller.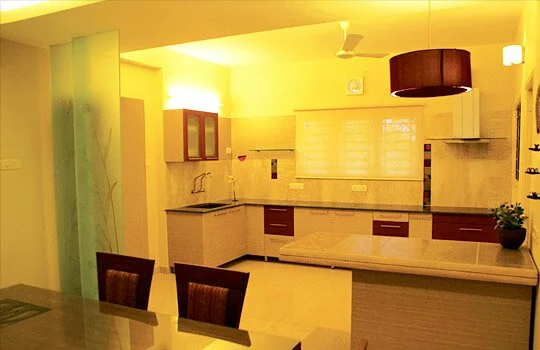 Cutting Edge Technology
With technology touching every part of our lives, the kitchen is no exception. Ewe kitchens are sleek, sophisticated and bring in cutting-edge technology into kitchens. The brand offers a versatile range – Ewe trendsetter and Ewe style icons. Suresh Babu, Brand Manager says, "Ewe is an Austrian brand that offers world class kitchens .The designs are contemporary and the storage solutions focus on optimum usage of space. The latest in technology is also incorporated into the design. Think handle-less storage cabinets that open at a slight touch moving seamlessly, thanks to hydraulic technology. A remote operated bar counter and movable breakfast counters that can be slid around for comfort are other exciting features.
"Ewe kitchens are made from high quality materials like MDF, chipwood, high gloss acrylic, steel and so on. They are priced between 4 to 40 lakhs."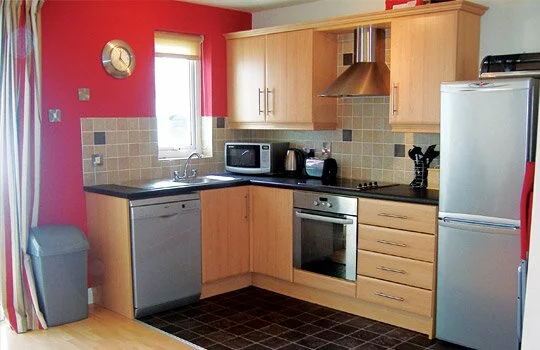 Trendy Storage Solutions
The greatest advantage of modular kitchens is the immense storage possibilities. No space is wasted. Shelves come in various sizes and functions - cutlery racks, swivel shelves and other assorted racks. Besides pull-outs, cabinets can also have options like sliding doors or shutters.
Sleek Countertops
There are many options for counter-tops, the most common being natural stone like marble, granite and slate. These apart, wooden veneers available in many colours are used too. Ewe, for instance, offers matte and high gloss laminates in classy colours like white, cappuccino, black, coral, Kashmir, ginger and more. One can also choose glass for a sleek look.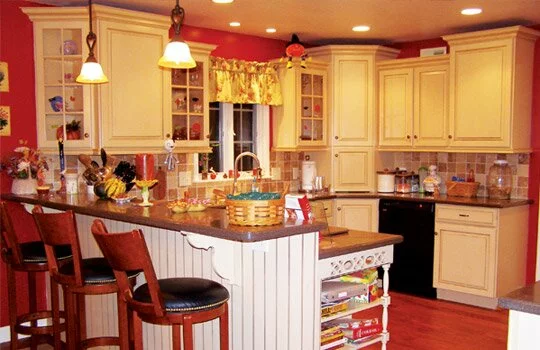 Kitchen Cabinet Surfaces
Kitchen cabinet surfaces can have attractive wooden veneers like birch, chestnut, oak, teak and so on. To get a more stylish look, opt for high gloss acrylic, steel, coloured glass or transparent glass.
Lighting
Lighting the kitchen well is important so that it does not look dull and dingy. Besides the regular lights, use accent lights to highlight areas like crockery displays. You can also add lights inside shelves to illuminate things inside. Bottom lighting for the cabinets can give the kitchen an interesting look.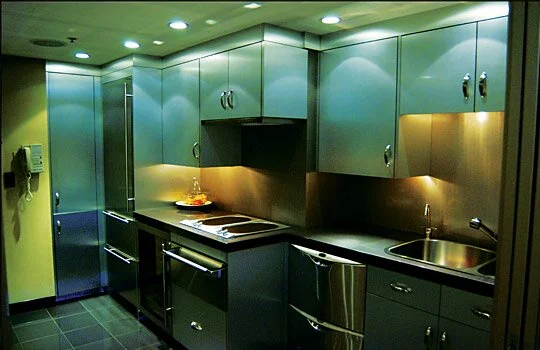 Add a Knick-knack
Bring the personal touch into your kitchen by jazzing it up with an artifact you like. Create a granite or wooden ledge that runs along the wall or try a frosted glass niche or a wall niche to showcase this. A line-up of themed artifacts is a good idea or use something related to cooking and food.
Stylish Sinks
Sinks are still predominantly conventional steel as this is the most practical but glass bowls and those made from natural stone are being fancied too. A swan neck tap can add a dash of glamour to the sink.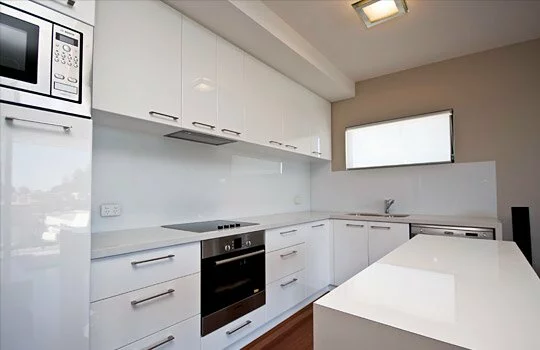 Ventilation
The kitchen needs adequate ventilation, large windows are ideal. Exhaust fans and chimneys to remove the smoke, steam, grease and odours are an essential part of the kitchen space.
Before planning your kitchen design, consider your lifestyle and cooking patterns before you start. After all, your kitchen speaks volumes about you.