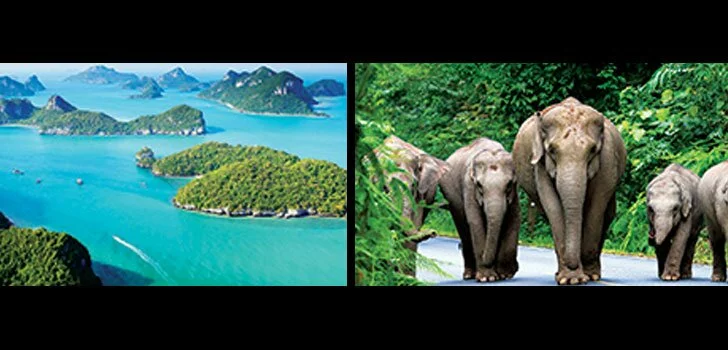 Khao Yai is known for its vineyard vistas and verdant fruit orchards because of the alpine climate and fertile soil. Beyond the park gates, fertile farmland and fashionable weekend retreats lend the 'Province of Thailand' an air of class not found in other pastoral areas. Leave Bangkok to spend a few days here and you will find a mix of tropical adventure and tranquillity not found elsewhere. Text & Photos by Susheela Nair
If you want an easy weekend escape from the stifling smog and fumes of Bangkok, head to Khao Yai, Thailand's most nature-rich regions. It is dotted with attractions like cowboy theme parks to mountain-hugging vineyards and Khao Yai National Park's endless carpets of green. Khao Yai is a haven for nature and adventure lovers. It is an all-in-one destination where you can pack as many activities as you want in one day, whether a waterfall hiking trip, a round of golf, farm tours, mountain biking, or fun theme park with horseback riding, and combat-style games. Some have second homes in the area, while others come here to tee off and the soft-adventure activities, especially horse riding and off-road driving in ATVs, offered by the increasingly popular farm ranch resorts.
Khai Yai National Park
Khai Yai National Park has many claims to its credit. It is Thailand's first National Park, one of Asia's largest monsoon forests and a UNESCO World Heritage Site. This 2168 sq km park is located a mere two-hour drive from Bangkok, the pulsating capital of Thailand. Grand vistas of eight major peaks and five primary rivers spawn numerous impressive waterfalls. Two stunning waterfalls are the highlights of Khao Yai.
Barking deer and even the occasional elephant are a few of the mammal species spotted in the alternating forests and grassy plains. Macaques and gibbons can be seen even along the park road or in the middle of the highway. Sprawling over four provinces the park is dotted with a plethora of scenic viewpoints, gurgling streams and walking trails. From the summit, one can have a stunning view of the sweeping mountain ranges of the park.
Besides trekking and game drives, the open-jeep Night Safari is an exciting way to spot wildlife. Khao Yai is also the stomping ground of elephants, hedgehogs, civet cats, deer and the occasional leopard. The 6 hiking trails, birding trails and observation towers make for some excellent wildlife spotting. Even the roadside offers plenty of birds. The most impressive of Khao Yai's birds are the hornbills with 1.9 meter wingspans and loud flapping that can be heard almost a kilometre away. Spanning five distinct forest types and rising to a height of 1341m, the park sustains over 300 bird and 20 large land-mammal species.
It is quite easy to trek the park trails by yourself. But it would be advisable to take a guide as some of Khao Yai's best waterfalls, caves and viewpoints are as much as 20 km apart. It would be prudent to avoid visiting on weekends and holidays, when it is busy; at peak times, don't expect it to be like a safari park.
Carry binoculars and some warm clothes, as it gets cool at the higher altitudes, especially at night. There is a bat cave at Khao Luk Chang, outside of the park's northern entrance. Here at sunrise and sunset, you might see millions of bats either entering or leaving the cave.
Ganesha Statue
In a Buddhist dominated country like Thailand, it is amazing to see Thais paying tribute to the Hindu elephant-headed god. Worshipped as Phra Phikanet, Ganesha is the Lord of Wisdom and Good Luck. At Ganesha's Park in the Nakhon Nayak province of Thailand, one can see Thailand's largest Ganesha statues – one sitting cross-legged and the other reclining against a giant bolster. In the sitting posture, there is a trishul (trident) in his left hand that is raised. A snake is also wrapped around the body of Ganesha. Locals offer incense and whisper prayers in the ears of his divine vehicle, the mouse. A small enclosure in the complex displays Lord Ganesha in 108 poses.
Piazza Palio
A trendy shopping centre, 220 km northeast of Bangkok, themed around a Tuscan village where visitors are treated to an eclectic mix of independent shops and malls, a combination of clothes and gift shopping, gourmet snacks and live entertainment. It recreates the charm of Tuscany in the green heart of Thailand. Entering the village, the striking terracotta–toned buildings resonate with an unmistakably Mediterranean vibe. Potted flowers, ferns and creeping ivy add to the charm. There are hanging baskets, ornate ceilings, medieval-styled castle walls everywhere and benches for visitors to relax and enjoy the sights. The lovely vine-covered, adobe-coloured buildings and landscape gardens exude the feel of a pastoral village, also a recurring theme for vineyards and upscale retail shops in the area. The Palio walking street features a range of 120 stores in an Italian setting, offering a diverse range of merchandise, including home décor, design, fashion accessories, books, wine cellars, cafes, IT gadgets and more. There are also restaurants and bakeries.
PB Valley Khao Yai Winery
This winery is the birthplace of the Khao Yai Wine Region and one of the finest wineries in Thailand, located at the edge of the National Park. The cool highlands around Khao Yai are also home to a nascent wine industry. These have been dubbed the 'new latitude' wines because grapes are not normally grown between the 14th and 18th parallels. It is scenically set and offers tours, tasting and classy restaurants. The guided Wine Tasting Tour has created global awareness of the quality of Thai wines.
Fact File
When to go:
The most pleasant season to visit Khao Yai region is from November to February. If you want to visit the waterfalls, the rainy season is the greenest and the waterfalls are at their impressive best.
Where to stay:
There are facilities for camping and basic accommodation in the park itself, and plenty more comfortable options in the Khao Yai region and in the nearby town of Pak Chong.
Hot Tip:
The Khao Yai region is just at driving distance from Bangkok. It is best to hire a car and drive down to the tourist attractions here. It is less than three hours from Bangkok and near enough for a day excursion.