It is not just important to concentrate on the final look. Remember, colours you choose have a huge bearing on your moods. Colours can play a very important role in brightening up a home that you would so look forward to come back to after a tiring day.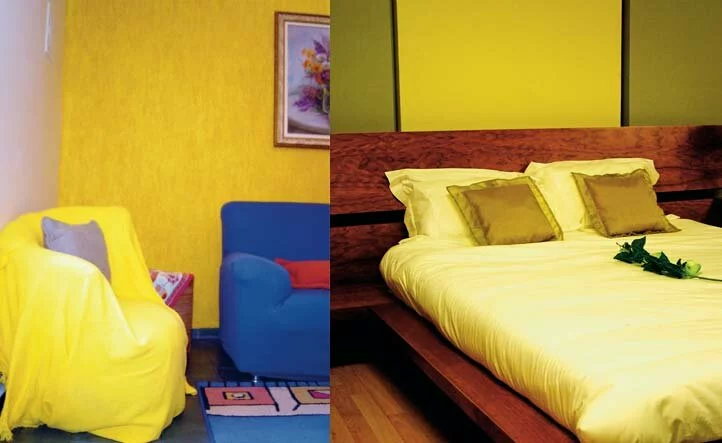 You wear pink to feel feminine and bubbly, black to look classy and elegant and yellow to sprinkle gaiety. Now, follow some colour code to ramp up your mood accordingly.

The colours that you use for your interiors have a huge impact on your moods and thoughts. It is a matter of psychology and following some simple tips can help you pick the right shade for the right mood. Some shades have a cooling effect, while some warming. A few colours are soothing but some bring in a great deal of energy. It is essential that you balance the two to bring a positive influence on your mood.

Here is how each colour has a different bearing on your mood.

White
It is a known fact that white symbolizes peace and true to that, the shade brings about a feeling of calmness and peace to your home. "White is also the best choice of colour you can make if you are going for the minimalist look. White can also blend well with other overpowering shades like blue, red and green and so, provide the soothing effect," says designer Prem Kumar. No surprise that white is the first choice for your drawing rooms and balconies, for it also makes the room look large and airy.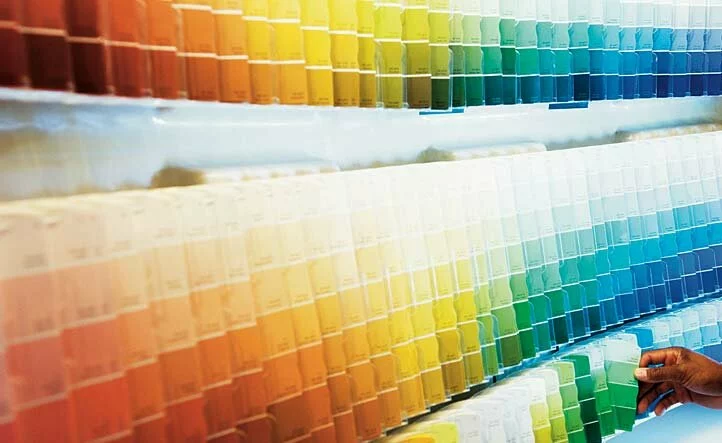 Black

The bold and dark may be a favourite shade for clothes, agreed, but never make the mistake of using black extensively in your home. Black brings about a negative and depressing look; restrict its use to small doses. However, even for the small doses, complement the colour with furniture to nullify its overbearing presence. "This is perhaps the only colour that people and designers alike don't like to use in homes," says Prem Kumar. Dark enchantment gets a big 'no no' when it comes to interiors.
Orange
Bright and peppy, orange is a warm colour that brings energy in generous doses to your abode. It is a good idea to use the shade in your dining room for the simple reason that orange can help in appetising. Perhaps that is why orange is often used for food catalogues and logos. Coming to think of it, the reasoning makes sense, doesn't it
Blue
This is an eternal favourite while choosing shades for your bedroom and it is rightfully so. Blue is one of those cool colours that is soothing and relaxes your senses. What else could be a better place to use them, in reasonable levels, than your bedroom? Blue is the right shade for a room that you enter to forget work woes, home worries and to curl up for a good night sleep
Green
Considered to be a soothing shade, green is also an ideal choice for bedrooms. It is largely used to denote concentration and is considered to be the best colour for any room. But more often, it finds a place in study rooms for its claming and relaxing effect.
Brown
It is an earthy colour and provides a sense of stability and security. "Browns also bring a rich look to the house, without being dominating in its presence," says Sumithra T, an interior decoration consultant.
Yellow
This warm shade is again an interior favourite for it adds brightness and cheer to your home. Any shade of yellow, whether a lemony hue or bright yellow is a choice for playrooms, work space or living room. However, make sure you pick the right colour. Yellow is the right choice for dark rooms that need a burst of light. Yellow is also believed to stimulate nerves and purify the body, hence a positive colour.
Red
This is perhaps one of those few warm colours that are extremely energetic and overbearing for your senses. Hence, it is advisable to use them in small quantities. Maybe, paint a wall or two to liven up the space, but avoid painting an entire room red.
Pink
You mention pink and girls squeal in delight. Well, all that excitement has a valid reason. Pink is associated with tranquillity and an ideal choice for girl bedrooms. And, most often, it is the first choice for babies' room too. Interestingly, pink is also supposed to set a romantic mood and symbolises budding female sexuality. Therefore, it is a ladies colour, rightfully.
Even a slight variation of the same colour can have an entirely different effect on your mood. If you are looking at going for a never tried before shade, it is better to research on it before deciding.
Chromotherapy
Related to the concept of colours impacting one's moods, it is interesting to know about chromotherapy. It is the branch of science that uses colours to modify or keep the vibration in a range that results in health, happiness and balance. According to this branch of science, each chakra in the body is represented by one colour. It is believed that an imbalance in any of these colours causes physical and mental ailments.