Fashion might be called a decorative or an applied art as opposed to fine art but the same amount of artistic expression goes into making a piece of clothing, for fashion is born from the dreams of an artist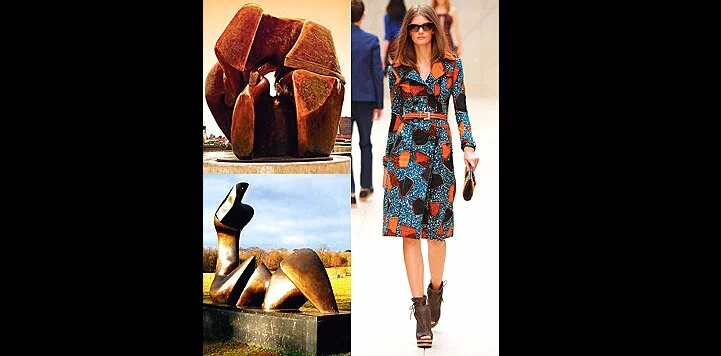 A The debate on whether fashion is a form of art by itself has been going on for decades now but the fact that for many designers, art has been a source of inspiration can definitely not be refuted. Fashion at its best is worthy of being a subject in a museum – an attractive couture dress, like the ones Balenciaga created in his 1950s peak, can look as flawless as a beautiful painting or sculpture. The creative amalgam of both fashion and art has given birth to iconic sartorial creations which have proven to be works of art themselves. S/S '12 for instance was a galore of artistic references. Andy Warhol's Silver Clouds was an inspiration for Giles Deacon's creations. Jil Sander experienced its fashion-art moment when Raf Simons looked at Picasso ceramics for a futuristic take on knitwear. Christopher Bailey of Burberry took inspiration from the work of sculptor Henry Moore while John Chamberlain's crushed car sculptures gave birth to Mary Katrantzou's line. The runways have always been full of creations motivated by picture perfect portraits and they have been claimed to be inspired by great paintings, rightfully so.
Yves Saint Laurent: "Mondrian" day dress (Piet Mondrian)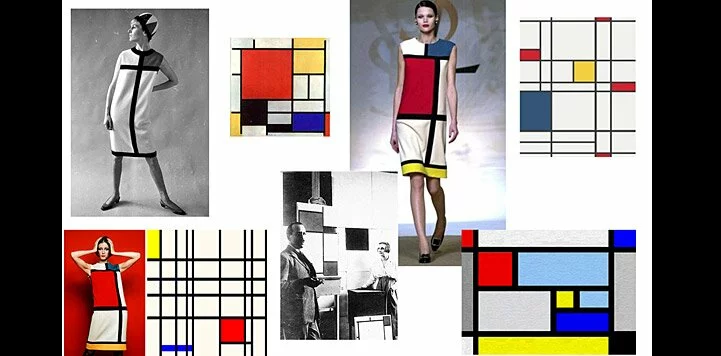 When the sack dress became the modified shift dress in the 60s, Saint Laurent recognized that the plane surface of the dress was perfect for colour blocks. Laurent capitalized on the impact of flat plane canvases created by contemporary artists like Mondrian and used it in his artistic sensibility to create something no one has ever seen before. Although, he also exhibited an exploit of dressmaking, setting in each block of jersey, piecing in order to create the resemblance of the Mondrian painting and to fit in the body indiscernibly by disguising all the shaping in the grid of seams.
Alexander McQueen: M.C. Escher
M. C. Escher is famous for his capacity to create unique optical illusions, with great respect for perspective, aesthetic and geometrical precision. Some of his works resort to ducks in flight congregating and morphing to create other items, which McQueen incorporated in his couture, making the duck morph into a hound's tooth pattern.
Gianni Versace: Andy Warhol
To Gianni Versace, Warhol was like his alter ego - he chanced upon Warhol's works in his first trip to New York and since then the relationship between art, advertising and design was fascinating to him. Hence, the pop artist was represented in his work often times and Versace selected trademark pieces by Warhol created during 1960 to fashion a series of dresses with pop culture icons and bright colours.
Rodarte - Vincent Van Gogh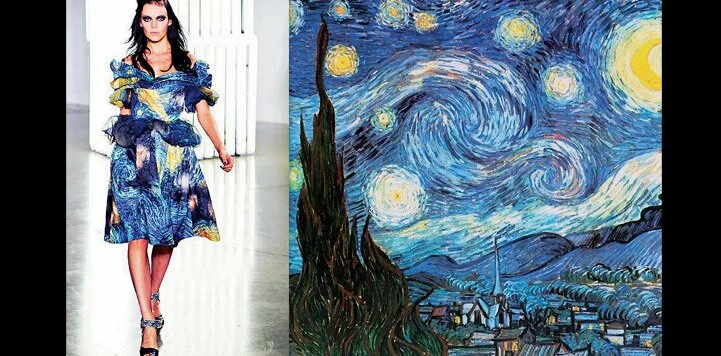 At Rodarte, Vincent Van Gogh's Sunflowers and Starry Night were incorporated into 50s dresses, creating stunning results at S/S '12. The young brand founded by Kate and Laura Mulleavy in California, was defined by designs inspired by the colour palette of impressionist artists, as well as prints evocative of some of the most iconic works of Van Gogh.