Dancing, singing, composing, choreography, teaching, she has done it all, and she still feels it is not enough. Ambika Kameshwar speaks about her journey with the arts, in conversation with Sruthi Radhakrishnan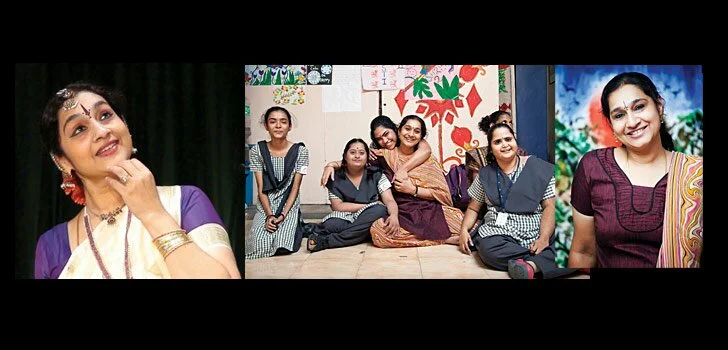 Ambika Kameshwar's eyes light up when she sees her students. Her pride is obvious when she repeatedly refers to them as 'my special children'. One of them is bawling her eyes out as she consoles her. "Do you want to cry or dance?" she asks. "I want.. to.. dance, teacher," the little one replies, hiccoughing between words. She then gets them to stand in position and they perform Arputhamana Kalai, a song she has composed. As they complete the song, the joy is evident on each student's face, such is the power and warmth of their teacher.
Learning from the maestros
Ambika Kameshwar began her journey as a dancer and a musician when she was a child. A keen student of the arts, she started learning music at the age of five from her mother Sulochana Natarajan and later continued her advanced training with Dr S Ramanathan, Rukmani Rajagopalan and finally, under D K Pattamal for about eight years. She recounts her days learning with Pattamal with much pride. "It was beautiful learning with Pattamal. She is one of the noblest souls you can meet, very honest to every moment. A wonderful person, it was an honour to learn with her."
She learnt dance from Kumari Meenakshi and Narendra Sharma, and she refers to the latter's style as integrative and creative. "When you learn the arts from anybody, you imbibe much more than the art. You imbibe culture, attitudes. That has been my journey. I have been blessed with Gurus who have been ideal for that learning, not just the arts." Ambika feels she has found indescribable happiness in every moment that she has been on stage. "I simply cannot pinpoint and narrate any one incident that has been memorable for me. Every experience has been a significant and tangible experience of His grace."
Her Special Children
She began teaching dance and music in Chennai in 1985, when she moved after her marriage, and her school is named Rasa Arpita. She has composed, written and directed around 30 dance dramas, 15 to 20 special dance theatre productions.
But more important than these mindboggling numbers is her voyage with specially abled children. It began when she was 18 years old. "My father had begun the Ramana Maharishi Centre for Learning in Bengaluru. Another 'co-devotee' had started Ramana Maharishi Academy for the Blind. I was approached at age 18, and asked to teach music and dance to the visually impaired," she says. Her students there could learn music easily, but dance was a challenge. "They used to feel the mudras and replicate it. They used the tactile as a learning tool. It was hard, since it took so much time, as dance is a visual art. But there was a deep sense of fulfilment."
She felt she had found her calling right then. "Children with visual impairment usually take very small steps, because they cannot understand space. But after learning to dance, they started moving with confidence. They identified themselves as people with talent instead of just somebody with visual impairment." The visually impaired children's understanding of communication, their self-confidence, their spatial awareness — everything improved after they began learning to dance.
The Birth of Rasa
It all came together only when she moved to Chennai. "I got married and my husband and I chose Chennai. He asked me what I would like to do and I knew I wanted to move to Tamil Nadu. Somehow, we both felt it would be good to live in Chennai. So we just shifted here. It was as simple as that." In March 1985, her sister-in-law, Poonam Natarajan, started a special school, Vidyasagar, then known as Spastic Society of India. Ambika Kameshwar offered to help teach the students there.


In her words, she 'taught whatever she knew', but she took efforts to empower herself in the area of special needs. "I needed to understand what special needs was. I also went through certain courses with Spastic Society of India, where I could understand different kinds of special needs — mental retardation, cerebral palsy, autism; what are the different needs that each disability has. I did another course on how to teach special children."
In 1989, she realised that while she could do only so much on her own, with a team of like-minded people, a lot more could be achieved. And thus was born Rasa — Ramana Sunritya Aalaya. It began as an outreach programme with special schools in the city such as Matru Mandir, Balar Kalvi Nilayam, Little Flower Convent and Olcott Memorial School. Eventually, with word-of-mouth, other schools heard about Rasa. "Initially, travelling on my moped, I could visit only one school a day. When others joined me, we could reach out to more schools — Andhra Mahila Sabha, Subodhini, Pathway."
The Tools of Theatre
The next step was possibly what made her involvement with special needs valuable. She created a PG Diploma course that encapsulated all that she had learnt while teaching special children, a course named Theatre for Holistic Development (THD). Ambika did her MA, M Phil and PhD in Natyashastra, and her PDF (Post Doctoral Fellowship) in Indian Theatre for Holistic Development. She speaks about theatre as if it were life itself. "Indian theatre is so closely related to life, that teaching life through theatre becomes the most natural thing to do. Just imagine if you walk on stage, with worry about how you did in the last act and how you will perform in the next act, you will make a mess of this act. That is life for you."
THD uses the five tools of theatre — dance, drama, music, storytelling and arts and crafts to help children develop. "It is so easy to teach about life through theatre because it is such a real experience. It is like teaching a child to walk on the road. We are all actors here. There are no judgements. They learn to play their role in a perfect manner. We get to a point where we understand that the role is different from the actor."
Later in 1996, there was a lot of demand for a full-time centre for THD, where the entire rehabilitation takes place. Then, she started the Rasa special school. Small as it may be, the school still has an outreach programme, and has had about 100 students till date. Class sizes are small as each child needs individual attention. "While THD is well suited to foster holistic development, in RASA Special School we deal with children who have mental challenges due to different causes such as Down's syndrome, autism, cerebral palsy and the like," she elucidates.
For special children, she explains, theatre is the best way to help them grow. For instance, if a child has communication problems, storytelling could be used, dance for locomotor skills, music for vocalisation skills and so on. "Suppose there is a child who behaves badly in class. How do I teach her not to hurt other students? Through a story, a story that makes her understand that friends should help each other and not hurt each other. We can tailor THD to suit individual needs."
There are no particular stages in the pedagogy. THD is broken down for each child. If the child needs movement, they start off with simple movements — locomotor and non-locomotor skills. If the child needs to learn a language, they begin with sounds.
The Need for Acceptance
Even now, parents with special children find it difficult to accept their child, as she puts it. There are quite a few of children who come in their late 20s or 30s, children who have just been kept at home all their lives. "I don't think that will ever change," she says, speaking about parents who cannot accept their children. "The trauma that a parent undergoes remains the same as it was eons ago."
She laments about the lack of teachers for special schools. For every 100 teachers who join regular schools, according to her, only one or two may join a special school. "It is not the pay. It is more to do with the fact that they don't know what they might do. Every special school is always short-staffed."
It has been 30 years since Ambika started teaching special children. And she remarks she has learnt a lot from them. "Children are my gurus. Everyday is a beautiful learning experience — learning to love more, learning to accept, learning to be more empowered from within, learning to count your blessings rather than curse your problems."