10 Easy-on-the-Wallet Xmas Decorating Ideas

The smell of Christmas tree, the taste of freshly baked puddings, the wait for Santa Claus, the sound of carols and the joy of giving and receiving gifts. Christmas is a holiday which quintessentially kindles our emotions. It brings back childhood holiday memories and makes us want to recreate them for our friends and family and one way of doing that is to be surrounded by elements that remind us of this season. Decorating is not only fun but a bonafide way of spending quality moments with members of the family while sprucing up their home. Here is a list of budget friendly tips to embellish your house and make it Christmas ready whatever be the gravity of the occasion or the size of the gathering, says Nisha Kumar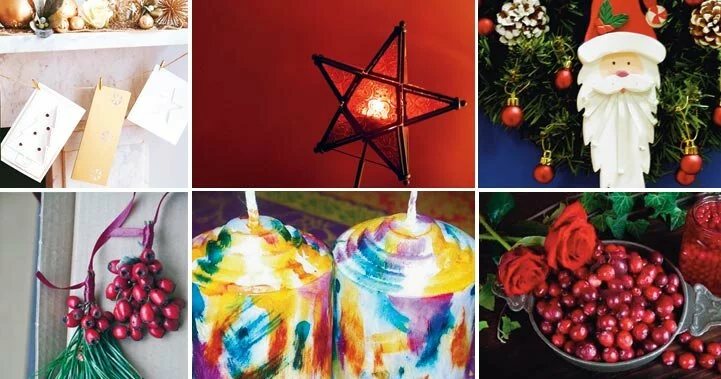 1. Take a stroll outside or if you have a garden, scour for and pick out twigs or thin branches. Spray paint the twigs with silver, gold or other metallic hues and stack them in a vase. There you have it, a stylish Christmas décor! Dazzle it up a notch by hanging some ornaments or tying bright coloured bows to them.
2. Dip into your collection of old greeting cards and pick out some winners. Stick them with cellophane tape either on a wall adjacent to the Christmas tree or in a suitable place in the living room. You could also mount them on a mat board. Simple and vibrant art deco in minutes!
3. Create a Christmas swag using leftover holiday cards. Tie them together through a thread and hang them wall to wall on the living or dining area.
4. Adorn your couch cushions in covers of Christmas hues, predominantly red and green. Tie white satin ribbons around them like you would to a gift box. Stick a decorative star or a fancy bow for the added Christmas symbolism.
5. Running short of Christmas stockings to hold the goodies? Santa won't mind! Collect small cardboard boxes or even tins and paint them with the colours of Yuletide and stick a label with the person's name on each. Let them dry and then punch a small hole on them. Now take red satin ribbons and pass it through the hole to hang the gift holders!
6. Fill large tube shaped glass vases with red cranberries or cherries to give your home that scarlet zing! If you don't own such vases, use clear wine or other glass bottles instead. This could be a perfect centrepiece on your dining table to get you in the mood for a lovely Christmas dinner.
7. Remember not to throw away used gift wrappers! Iron them out and frame them to mount on your walls. They make excellent wall hangings and also serve the purpose of Christmas decorations.
8. Collect empty glass bottles and simply coat them with holiday colours of red, green or even blue. Spray some silver or gold glitter over it evenly. You can throw in some flowers, twigs or even a candle to give it that perfect Christmas accent.
9. Jazz up your plain looking candles by painting them in festive tints and stick a few sequins and ornaments on them.
10. Fashion your own holiday wreaths. Step outside and pick out any type of greenery and use them to make a circle of wreath with a thin metal string. Decorate it with silver, gold and red ornaments and voila, you have an impeccable Christmas wreath!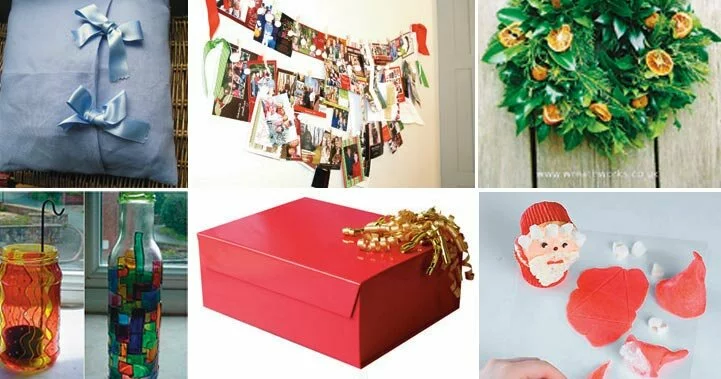 Quick Santa Swag

- Red felt paper
- Pencil
- Scissors
- Cotton
- Glue stick

- Paintbrush
- Tiny white buttons
- Small cloth clips (preferably wooden)
- Silver glitter
- Gold string

Draw out Santa's outfit on the red felt and cut the outline carefully using scissors. Stick the cotton on the edges to give the fur effect and stud the buttons. Accent the clothes with silver glitter. Use each piece of clothing separately and tie them to the gold string with the help of the clips.