Chatpata Treat
Talk about food cravings! The burst of tamarind and mint chutneys along with crispy pooris tempered with onions and spices is simply mouth-watering, isn't it? Chef Amit Dash at Courtyard by Marriott, Chennai, brings to you these delightful chaat recipes that are well worth a try!
Aloo Tikki
Ingredients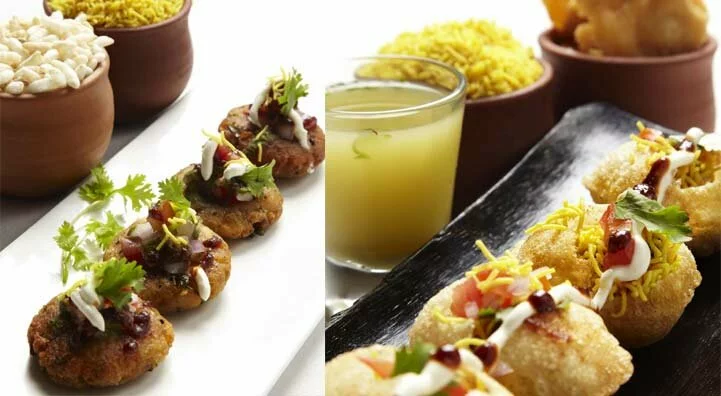 Ingredients
Boiled potatoes - 4 nos
Chopped ginger - 5 gms
Garam masala - a pinch
Salt to taste

Grounded black pepper - a pinch
Coarsely grounded cumin seeds - 3 gms
Oil to fry
Method
Peel the potatoes and mash them very finely. Keep it aside.


Add the chopped ginger, garam masala, grounded cumin seeds, salt and pepper in a bowl and mix them well.


Add the mashed potatoes to this mixture continue to mix.


Divide into equal portions and make mini patties.


Pan-fry on both sides till they become crisp and golden brown. Add oil only if required. Fry it in very low heat.


Serve them hot with chutney and nicely whipped curd.

Pav Bhaji
Seafood at its best
Ingredients
Pav Buns – 10 nos
Chopped onions - 50gms
Coriander Powder - 5 gms
Chopped tomato - 30 gms
Cumin Powder - a pinch
Mashed potato - 50 gms
Chili Powder - 5 gms
Boiled peas - 50 gms

Chopped beans - 50 gms
Coriander Leaves - a sprig
Lemon Juice - 5 mls
Capsicum chopped - 25 gms
Grated ginger - 5 gms
Chopped garlic - 1 clove
Green Chilies (chopped) - 1 no
Water - 150 mls
Salt - to taste
 
 
Method
Bhaji
Sauté onions and garlic in cooking oil and fry them.


Add tomatoes, salt, coriander powder, cumin powder and chili powder and continue to sauté.


Add the other ingredients and cook on low heat for a few minutes.


Cook all the chopped vegetables except capsicum on medium flame and keep it covered for a few minutes.


Use a vegetable masher and mash the vegetables well. Add 1/2 cup of water and allow it to simmer.


Now, add the chopped capsicum and stir. When all the vegetables are mixed well, garnish with coriander and lemon juice.

Pav
Slit the pav buns horizontally from the middle.


Apply butter on the cut surface and fry in hot pan. Remove the buns from the pan when they turn golden brown.


Serve hot with finely chopped onions and lemon wedges.
Chicken Tikka Chaat
Ingredients
Chicken Tikka - 150 gms
Sliced onion - 35 gms
Sliced tomato - 35 gms
Chopped green chili - 1 no
Chopped coriander- a sprig
Sweet chutney - 15 mls
Cumin powder - a pinch
Black salt - to taste




For the Chicken Tikka


Chicken -1 (3 to 4 pound)
Yogurt -1 1/2 cups
Paprika -1 tbsp
Garlic cloves (pressed) -4
Chili peppers -1/8 tsp
Salt -1 tsp
Cinnamon -1/4 tsp
Ground cumin -1/2 tsp
Ground cloves -1/8 tsp
A spritzer that is used to mist plants or dampen clothes for ironing for the barbecue flare ups.
Method
Wash the chicken and cut it into pieces. Discard as much as fat possible from under the skin, because the fat catches fire while cooking and causes the chicken to burn. Dry the pieces.


For the marinade, combine all the remaining ingredients. Mix the marinade and the chicken and leave it all day in the fridge, turning them once or twice.


To barbecue, either a wood or a charcoal fire will do. Turn the chicken often so that it doesn't burn, and when the fire does flare up, extinguish the blaze by spraying it with water from your spritzer. It takes about 30 minutes to cook the chicken tikka.

For chaat:

Method

Mix all the ingredients with sliced chicken tikka. Garnish it with chopped coriander.
Vodka Pani Poori
Ingredients
Puri -10 nos
Tamarind Pulp - 40 mls
Water - 100mls
Vodka - 50 mls
Roasted Cumin Powder- 3 gms
Coriander Leaves - a sprig
Green Chilly chopped - 2 nos
Mint Chutney - 30 mls
Black Salt - to taste
Jaggery- 20 gms

 
Method
Measure all the ingredients.


Adjust spices and tanginess to taste.


Strain through a wire strainer to remove any rough bits.
Dahi Poori
Ingredients
Puri -20 nos
Thick yoghurt - 50gms
Boiled & diced potatoes - 30 gms
Cooked peas - 30 gms
Cumin seeds - 3 gms
Turmeric - a pinch
Salt - To taste


Red chili powder- 10 gms
Garam masala - 03 gms
Sweet chutney- 25 mls
Sugar- 20 gms
Oil - 10 mls
Sev - 20 gms
Coriander leaves - for garnishing
Method
Whip yoghurt with little sugar and salt.

Heat the oil and add the cumin seeds and the diced potatoes to it. Add turmeric, chili powder, garam masala powder and salt and fry for a few minutes.

Break the puris from the top and fill them with the tempered stuffing and plop the seasoned curd.

Drizzle with sweet chutney and garnish with sev and chopped coriander leaves.

Poori
Ingredients
Maida - 150 gms
Sooji - 150 gms
Baking powder- 1 pinch
Salt - To taste
 
Method
Mix the above ingredients with cold water and make it into smooth, stiff dough.

Wrap the dough with a wet cloth and set aside for 15 minutes.

Make small even sized balls from the dough and roll it into small circles.

Drop one by one in hot oil and press well with ladle to puff up.

Fry till crisp and golden brown.


Sweet Chutney
Ingredients
Dates -250 gms
Tamarind -150 gms
Jaggery -50 gms
Garam masala -1 tsp
Jeera Powder -1 tsp
Black pepper Powder -½ tsp

 
Method
Remove the seeds from the dates and tamarind. Wash and soak in warm water for 30 minutes.

Grind to a paste and pass it through a sieve.

Add chopped jaggery and cook for 5 minutes till the jaggery melts.

Remove from fire. Add salt, garam masala, jeera powder and black pepper powder.

Store it in the fridge and allow it to cool. If the chutney is too thick, dilute it with plain water and adjust the seasoning accordingly.
Spicy Chutney
Ingredients
Tamarind pulp – 1 cup
Red chili powder – 1 tbsp
Ginger powder – 1 tbsp
Ground cumin seeds (roasted) – 1 tbsp
Citric acid – 1 tsp
Black Salt – 1 tsp
Salt – to taste
Water – 1 jug

 
Method
Soak the tamarind pulp in a cup of warm water for an hour. Strain the tamarind residue out to get thick tamarind water. While straining, mash the tamarind with the help of a spoon.

Add red chili powder, ginger powder, roasted cumin seeds, citric acid, black salt, water and salt. Mix well.

Cook until it starts boiling and remove them from the stove. Refrigerate it.