Food




Recipes > Break Out the Grills!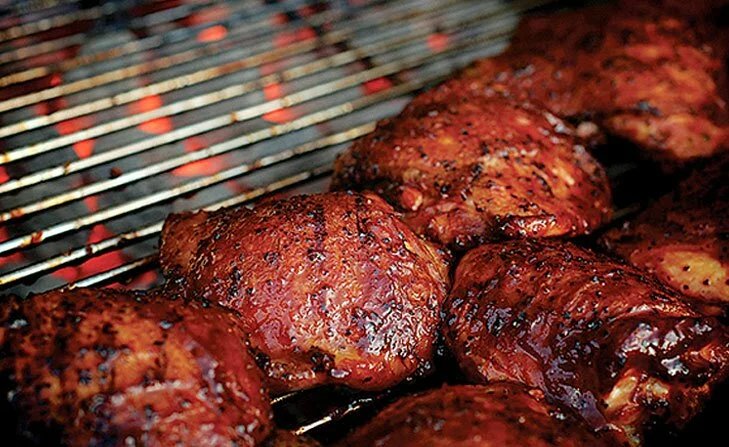 Summer evenings are the perfect time break out the barbecue grills. Set up a barbecue at home and enjoy this fun, easy to make style of cooking to the fullest! While once barbecues were restricted to meat, poultry and seafood dishes earlier, vegetarian options like paneer, tofu, potatoes and even cauliflower have now become common.
Lamb Koftas
(Making barbecued meatballs just got easier with only six ingredients)
Ingredients
Lamb (minced) – 500 gm

Cumin (grounded) – 1 tsp

Coriander (grounded) – 2 tsp


Mint leaves (chopped) – 1 tbsp

Salt to taste

Oil for brushing
Method
1, Mix all the ingredients together except the oil until it is blended well.

2, Divide them into eight balls and roll each ball with a cupped hand to turn them into ovals.

3, Thread the ovals onto metal skewers and brush them with oil.

4, To cook on a griddle, heat the pan until you can feel a good heat rising and cook for 3-4 minutes each side. Don't turn until they are well sealed or the meat will stick to the grill or pan.

5, Season with garnishing (optional) and set aside.

6, Serve the koftas hot with yoghurt or mint chutney.


BBQ Chicken Burgers
(These delicious burgers can easily be rustled up on an evening for a last-minute barbecue)
Ingredients
Chicken breasts (skinless and boneless) – 4 pieces

Burger buns (large and sliced in half) – 4 pieces

Slices of lettuce, tomato and onions as required

For the sauce and marinade

Tomato ketchup – 4 tbsp

BBQ sauce – 4 tbsp

Chilli sauce (optional) – as per taste

Clear honey – 2 tsp

Garlic cloves (crushed) – 2

Method
1, Make the sauce and marinade by mixing everything together in a large bowl. Set aside few spoonfuls of the sauce.

2, Slice halfway into the thickest part of each breast and open it up like a book. Flatten down slightly with your hand.

3, Toss the breast in the bowlful of marinade to coat. Allow it to cool for some time.

4, Now barbecue the chicken for about 10 minutes until it is completely cooked.

5, Toss and turn it so it doesn't burn, but it will have to be nicely charred and brown.

6, Toast the buns now.

7, Assemble the burgers with the barbecued chicken, lettuce, slices of tomato, onion and the reserved sauce on the side and build.

8, Serve with fries or potato wedges.


Paneer Tikka Skewers

(The ubiquitous vegetarian kebab for all seasons)
Ingredients
Paneer cubes – 12

Vegetables like onions, bell peppers, tomatoes (sliced)

Sour cream or thick yoghurt – 1 cup

Red chilli powder – 1 tsp

Garam masala – 1 tsp

Turmeric powder – ½ tsp



Besan (Gram flour) – 1 tbsp

Ginger garlic paste – 1 tbsp

Lemon juice – 1 tbsp

Water – 2 tbsp

Salt to taste

Oil to brush
Method
1, Prepare the marinade by whisking together sour cream, chilli powder, turmeric, ginger garlic paste, besan, garam masala, lemon juice, water and salt in a large mixing bowl.

2, Try using sour cream instead of yogurt. It gives the marinade a very rich and creamy texture and also enhances the taste quite a bit.

3, Toss in the paneer and veggies (bell peppers, tomatoes, onions etc.) and allow the marinade to coat them evenly.

4, Transfer this to a big Ziploc or similar plastic bag, close it tight, massage well and refrigerate for 2-4 hrs.

5, Just before serving, skewer the paneer and veggies alternatively. Metal skewers are easy to work with and you will need about 3-4 of them.

6, Spray oil on the kebabs and place them in grill and toss them for 10-15 minutes until you see some nice dark brown to black marks on them. Keep rotating the skewers for even cooking.

7, Pull out the kebabs from the skewers and serve warm with spicy mint chutney.



Stuffed Sweet Peppers

(This makes for an interesting appetizer)
Ingredients
Large sweet bell peppers (seeded, pith removed and tops reserved) – 4

Extra-virgin oil, plus extra to drizzle – 1 tbsp

Mozzarella balls (sliced) - 2 x 125 gm



Black olives (sliced as rings) – 2 tbsp

Oregano (chopped) – 1 tbsp

Garlic cloves (crushed) – 2
Method
1, Heat the barbecue or griddle pan to hot.

2, Rub the outside of the bell peppers all over with the olive oil.

3, Stuff the deseeded peppers with the mozzarella, olives, oregano and garlic, and drizzle with a touch of olive oil.

4, Pop on the barbecue, stuffed-side up for 12-15 minutes until the pepper is nicely charred.

5, Serve hot with tartar dip.



Barbecue Sauce
(Brush this sweet-sour sauce over chicken wings or ribs before barbecuing)



Ingredients



Cider vinegar – 200 ml

Dry mustard powder – 2 tbsp

Sugar – 6 tbsp

Tomato ketchup – 4 tbsp



Bourbon – 4 tbsp

Big pinch of dried chilli flakes

Soy sauce – 2 tbsp

Garlic cloves (crushed) – 4
Method
1, Toss all the ingredients into a saucepan and add a splash of water.

2, Stir everything together and then simmer gently for 20 minutes until it thickens to become a sauce.

3, Allow it to cool.

4, To use, brush the sauce over meat or chicken before barbecuing.

Share your cherished memories, inspiring experiences, short fiction or your favourite recipes with our readers.

Write In