Boudoir Magic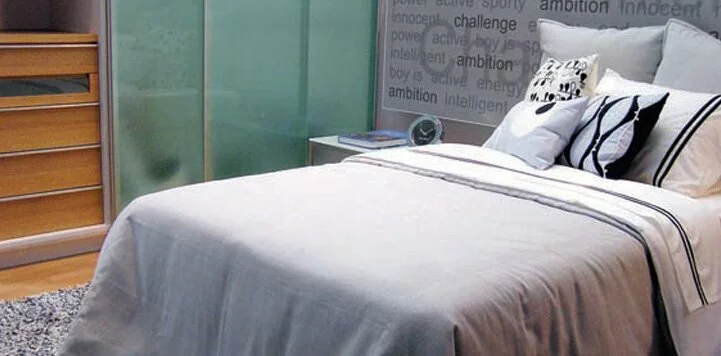 Valentine's Day! It's not about just that one day; it's about keeping that feeling alive every single day, all year along, and where else can you rekindle the sparks than in the bedroom? By Bhargavii Mani
Taking time out for romance to keep the love alive, refreshed and renewed within a marriage, is the most talked about subject these days! With the rate of divorces and infidelity on the rise, it makes a lot of sense especially considering the otherwise stressful high pressure lifestyle that is prevalent in today's society.
Your bedroom should be your special retreat, energetically soaked in happiness: the quiet, soothing space you go to at the end of the day to relax and get away from it all. While there are many guidelines to keep the spark alive, there are some fundamental factors when it comes to ensuring your bedroom is both a comfortable and habitable space, from a design perspective. The universal rule in design is form follows function, so here goes:
1) Shape, Size and Proportions: With living spaces becoming smaller in metros, it is rather important that we put the available space to best use. Typically, a bedroom needs to house a bed, two side tables, a dresser, wardrobes and, if possible, an occasional chair. All these pieces of furniture need to be positioned bearing in mind the necessary circulation space required to ensure the space is not only used effectively, it is also comfortable for the couple using the room. Square shaped rooms are more convenient from a utilitarian perspective.
2) Entry and Exit points: Starting from the position of the door and direction of the swing into a master bedroom, one needs to observe the positioning of the doors to the balcony and bathroom, which are typically attached to the master bedroom. While positioning furniture, it is rather important to address the ease of movement upon placing them. One needs to recognize that everyday the residents of the bedroom would need to be able to manoeuvre around without hurting themselves or tripping, as it would soon start becoming a cause of rift and friction.
3) Natural light entering the room: Sun is the strongest source of energy and light. The biological balance is maintained thanks to Mr. Sun, whose natural light is of utmost importance in any living space, especially the bedroom. The rays and the light are meant to cleanse the energy and liven up the space, also cleansing your personal energy!
4) Natural Ventilation: Cross ventilation in a room ensures a free and unobstructed flow of air, which can be a great way to keep the atmosphere cool and clean in an interior space. In the situation where it is not possible to provide windows on opposite faces or adjacent faces, a ventilator above the window can be used. Why a ventilator? Well, the explanation is rather straightforward. Habitants of the room use the lower half of the room, thereby air temperatures rises and this air moves up vertically. If a ventilator is provided for, this hot air can be dispelled providing opportunity for fresh air to fill the living space coming in from the windows, ensuring a balance.
5) The Bed is the focal point in any bedroom. It's the soul of the room. The size of the bed needs to be in proportion with the size of the room. Ask yourself if your bed is comfortable for two people. Imagine going to bed always keeping in mind that if you turn, you might just land up on the floor! Due importance has to be given to choice of bed head. A bed head should be comfortable to rest against, easy to clean and should not have sharp ends. Upholstered bed heads are breeding grounds for bacteria. Ideally, it is best to avoid using the space below your bed for storage.
6) Mattress and Pillows are very important and often ignored aspects! It is a myth that cotton mattresses are the best for the spine. With the advancement in technology, there are specific types of mattresses to suit everyone's requirement. Also, most of our traditional cotton mattresses are breeding grounds for dust mites and bacteria. It is important that we change our mattresses and pillows regularly. The concept of mattress and pillow protectors is slowly becoming popular! If you use a cotton mattress, ensure to get it cleaned and redone at least every 2 years. Invest in your mattress and pillows, as this is possibly your best investment. While you might not see a tangible 'returns on investment', your health and productivity will be your reward.
7) Positioning the Bed: It is important that a couple can move around the bed with ease, so squishing it in one corner of your bedroom or hiding it behind the door are not the best of solutions. It is important for both sides of the bed to be balanced. Each side represents one of the partners and for the relationship to work long term, both partners have to feel equal, respected and treated well. Bedside tables on either side of the bed with proper provisions for bedside lamps are a necessity.
8) Bed Linen: Touch and feel are such an important part of the way we experience bedding. The fabrics have to be soft, silky and need to breathe. Softness of a fabric is dependent on both the thread count as well as the way the fabric has been treated by the manufacturer. As end users, we tend to want to quantify things, so we look for 500 or 600 thread-count sheets and assume softness, which necessarily need not be the case as it could have been treated to have a sandy effect too. So when you shop for your linen, feel the fabric before you pay for it.
9) Mirrors and Photographs: When a couple is spending time together, interruptions and distractions are least welcome. Even if it is just a reflection of one's own self, while spending that quality time with your loved one, neither of you want to feel lesser prioritized. Feng Shui says a mirror reflecting the bed is bad chi, and logically it simply distracts the couple, which will create rifts in the long run. The logic is pretty much the same with reference to photographs on display in a bedroom. It must not be of anyone other than the couple, children included. Pictures of family, friends and especially deities are a HUGE No No! Mirrors and Photographs of others may bring the energy of a" third party" into a relationship. Focus on making room for love on all levels and make sure there is space for that special person in your home and in your life.
10) Colours: The colours of bedroom walls, window treatments and other decor elements should work well together and certainly work for you personally. It is advisable to keep to pastel colours from either the warm or cool palette. The colours need to relax you and rejuvenate you.
11) Lighting: The right lighting is crucial to the romantic ambiance in any master bedroom. It is important to consider all of the other light sources in the bedroom and evaluate the bulb wattage used in each lamp. High-watt bulbs are ideal for reading but not for romance. Have several levels of lighting in your bedroom, or use a dimmer switch to adjust the energy accordingly. It is important to ensure that both ambient and task lighting are addressed. Candles set the scene for romance, so some strategically placed candles throughout the bedroom can help to create an amorous mood.
12) Art and Accessories: Choose some sensual, romantic or relaxing art for your bedroom. The smallest of details make a huge difference in the tone set to your bedroom. Upholstery and choice of linen, details on curtain rods, style of throws and bolsters add to the luxury factor of the room.
13) Adequate closet space: We women are demanding! Let's just admit it and be done with it! We need our handbags and shoes and our clothes for every occasion! Clearly, we need a place to house them and the lack of it is going to be asking for trouble! Infringing into our man's space is asking for no less trouble, as the metrosexuals of today seem to want their share of fancy wardrobe too! Needless to say, this is a very important factor while designing your bedroom layout!
14) Maintenance Factor: As mentioned earlier on, Form always Follows Function! Investing in the beautiful items and finishes could temporarily satisfy the shopaholic need in you, however, if they are not going to be easy to maintain, it is like investing and consuming slow poison! They will soon start to frustrate you. Also, it is very important to invest in finishes that suit the climatic conditions locally. Carpet flooring sounds heavenly in cold climates, but clearly not in sweltering hot weather which our country is privy to in most of the months.
15) Taboos and other recipes for disaster! Bedroom is the private space of a couple. These can detract you from the calm and romantic feeling you have worked so hard to design in your master bedroom! Your space needs to be devoid of the following to keep the spark alive!
a. Clutter - Old newspapers, piles of laundry, unmade bed, left over food, dirty dishes etc
b. Exercise equipment
c. Home Office
d. The dreadful Idiot Box!
Key to the whole "romance" theme we've been talking about can be set once the above are looked into and sorted out objectively. Romance is all about experience, and the above factors will enhance how you'll experience your room. A cluttered room is distracting. A room with less furniture, and fewer bric-a-bracs allows the harmonious energy to flow more freely. Temperature of the room should also be looked into. If it's too warm or too cold you won't be comfortable. The key factor is to make it your own personal space. It has to feel right and comfortable to you—not like something you've seen in a magazine, or a friend's bedroom. You have to love it because it's truly yours. And that's really what romance is all about! Enjoy every day like it is your first time together. After all, we spend one third of our lives in our ?bedrooms so go ahead and give it the importance it deserves in your life.