8 Tricks to a Bigger Home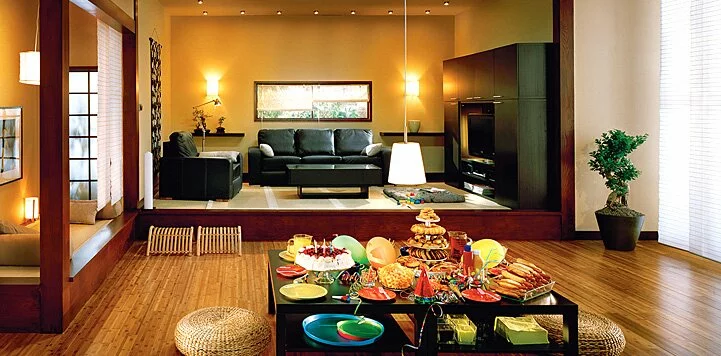 A cheat sheet to create the illusion of space in your homes no matter what the square footage is
Our homes are always spacious when we first move in but at some point the feeling of the walls closing in on us is inevitable. Many of us adorn our rooms with heavy wooden furniture or fashionably paint our walls with a dark shade of maroon on impulse. The possibility that we were tempted to buy knickknacks or gifted with a few that over time have somehow infringed the tiny little space causing the leftover empty space to shrink is also high. The reasons are plenty but the end result is that your rooms look smaller and smaller as time goes by. To make your rooms look markedly bigger does not mean that you need to necessarily throw out stuff. Here are a few easy tips to enhance your living space -

1. Trick and Treat
You know how they say pinstripe trouser make your legs appear longer? The same design principle applies in rearranging your living space – a striped floor will always create the illusion of space and fixing a large mirror on the wall will add to the 'space' effect. Replace heavy wooden furniture with sleek, transparent ones – for instance, place a glass top centre table or one that is made from Lucite or acrylic. Buy a set of three acrylic nesting tables considering they provide an endless surface space without encumbering the room visually. Also, choose furniture pieces that are a close match with your wall shade; for example, if your wall shade is a rich cream, pick out upholsteries in whites or fawn.

2. Cutting Clutter
This is possibly the cheapest way to free up space and all it takes is a little bit of organizing. Clearing out the clutter will make it easier to clean the room so that there is space allocated for everything even when new stuff is added. Hanging shoe organizers are not just meant to store shoes anymore; have one in every closet so that you can neatly arrange your magazines, books, beauty baubles, toys, etc. in them. Mount a sleek shelving unit on a bedroom wall to throw in all odds and ends that might be strewn around on the floor.

3. Colour, Colour, Wall Colour
An obvious tip but an important one at that – the lighter your walls, the larger the rooms. Dark shades of paint might make a room appear cosy but they also in turn make the room look smaller and the reason behind this is simple science – light shades catch and multiply light while dark ones absorb light. So stick to colours on lighter side of the palette such as cream, vanilla, powder blue and papaya whip.

4. Less is More
Want to put your favourite marble urn that you got as a wedding gift on display? Then just stick to that. You do not have to necessarily showcase all your vases and curios at once. Segregate them according to colours and keep changing them once in every four months. Also, placing a single decorative element makes a bigger statement than having several small elements.

5. Sit and Store
Buying furniture that serves more than one purpose is always a big way to create ample space. Place an entryway bench with space to store shoes or chuck things that you normally forget on your way out the door. A flip flop ottoman is the perfect buy to store things you don't want to be obviously seen and it also makes an awesome piece of furniture.

6. Break the Rules
Your living room does not always have to have a couch set or a television for that matter. While aesthetics are important, arrange your furniture according to the space available. Cramming up sofa, bean bags and a centre table all in a single room will only make it look crowded. Try placing armchairs in the living room and if your bed works best when it is pushed against the window, that is fine. Going creative while setting up the main furniture in a room not only helps in getting a judicious arrangement, it also allows space for other pieces, perhaps a bookshelf or a dresser.

7. Paler the Better
Just like light shades of wall make a space look bigger, light coloured countertops in kitchens and bathrooms make surfaces look larger. It is okay if you do not have the time to redo your entire room at a stretch, you can allocate time over the weekend to do your countertops alone. While picking out tiles for your bathroom, always go for lighter shades since dark ones will make them look smaller. Also, look for light coloured storage pieces that merge with your shade of wall colour; a white wastepaper basket placed in a corner prevents untidiness in a not so obvious way.

8. Lights to the Rescue
A single piece of lighting or ceiling lights throws brightness on just one spot; instead place many lighting elements in every room. Lights always catch attention and provide the onlooker with an illusion of expansiveness. Soft pink and yellow bulbs always work for every room considering they have a way of warming up the rooms. Make use of the natural lighting at daytime by hanging delicate curtains on the windows.