Are you dressed to kill? If not, it's about time you donned the war paint and plunged headlong into the swirling waves of fashion. This season, it's all about creating that dramatic effect and breaking all the rules. Looking super-stylish is all about balancing the bling with the basics. A simple ensemble can be matched with a single dramatic piece to make a style statement – guaranteed to make heads turn. We've put down 5 accessories which can be your statement piece to up your style quotient.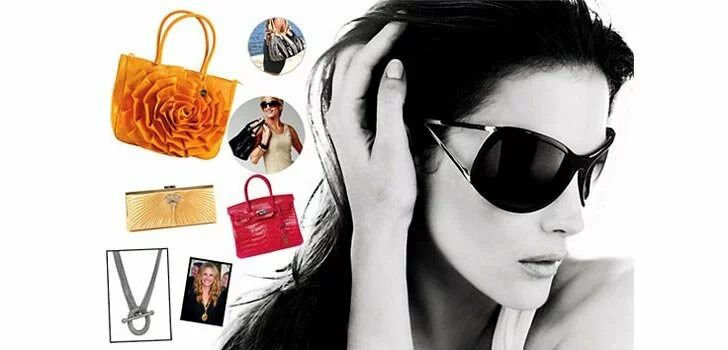 It's no longer about playing safe, at least as far as fashion is concerned. Good girls gone bad – and, it hasn't been this wicked before. Break all those fashion rules, experiment with colours and wear your style on your sleeve, literally speaking. With a bit of help from us, you can look stylish every day! Here are 5 accessories which can help you be the star of the show.
1.
Pin up, girls!
A simple black dress or a white ensemble is a picture of understated elegance, we agree. But, add a chunky brooch to the outfit and you're instantly promoted to the 'glamorous' level. Brooches are pretty much versatile and can add that touch of exquisite chic in an instant. Actress Charlize Theron keeps it simple and elegant as she elevates her simple black ensemble with the big, gold brooch tastefully pinned to her waist. Stone studded butterflies, intricate floral patterns to bold yet quirky pieces like owl, dragon fly, peacock and even antique designs can add chutzpah to your couture.
2.

Walk your pride

It's a proven fact – women love shoes! The female brigade has an intrinsic connection with anything shoes. What's more, there's history to prove it! Queen consort of France Catherine de Medici cherished her high heeled shoes while the timeless Marie Antoinette owned nearly 500 pairs of fabulous footwear which she flaunted with élan. Little wonder that renowned shoe designer Christian Louboutin has dedicated a whole new Collector's Range inspired by the Marie Antoinette's individualistic style. Embellished with pretty motifs, lacy lines and beautiful ankle straps, these shoes add a touch fairy tale –like splendour to our lives.
But, since such splendid shoes are a faraway dream for a wide section of women, there're still many, many options to choose from. First, put away those boring black pumps and ugly flat shoes. The trend this season is to bring back the heels. Retro versions of the peep-toes, stilettos (which never go out of vogue), kitten heels and wedges are big, on and off the runways. If you are looking to make a statement with your shoes, remember, it's all about bigger heels and bolder colours. Stop being boring and get those candy floss pink pumps or vamp red stilettos. You can choose between Prada's purple pumps or Alexander McQueen's electric blue peep toes. Or if you're looking for a subtle show of style, the Manolo Blahnik range is versatile and easy to blend with any outfit.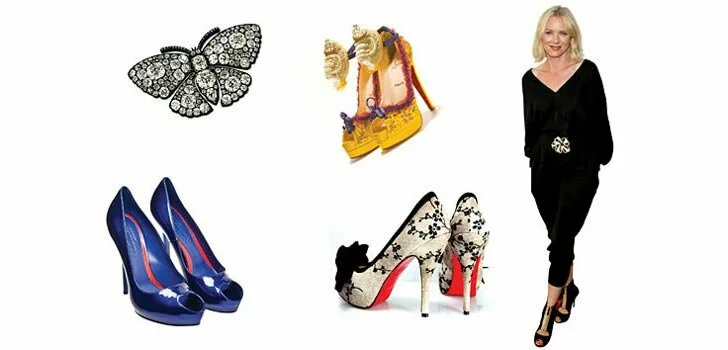 3.

Bag the moment
Bags – this is one accessory which we can't dream of stepping out without. For all functional reasons, the bags are now oversized and more adventurous, as far as colours are concerned. Shocking colours like blues, pinks, yellows and reds are very, very in. But, talk about evening gear, the trend drastically changes to the other extremes. Cute clutch purses in asymmetrical shapes encrusted with stones and floral motifs are quite a rage. Maxi clutches in quirky shapes are red hot this season. If it's a designer bag you're yearning for, you can choose between classics like Louis Vuitton and Coco Chanel or the bubble gum pink Hermes Birkin bag and flamboyant Fendi creations.
4.

In the neck of glory
Trend alert! Statement neck pieces can help you create bolder and glitzy yet highly dramatic effect. Neck pieces have now transcended from the usual gold and silver chokers and chains to chunky patterns in metals like bronze, brass and a different array of stones. With the bohemian chic capturing the imagination of the fashionistas around the World, beady necklaces a la gypsy style or African inspired pieces have become conversation starters. We suggest you don't restrict neck pieces to only evening wear but add a touch of fun quotient to anything from casual jeans to ethnic saris. Again, it's all about breaking all the rules – going bolder and brighter, creating an individualistic style of your own rather than being lost in the oblivion of being "fashionably right".
5.

Shades of glamour
Just take a look at Sarah Jessica Parker in Sex and the City 2! The whacky sunglasses instantly add a glamorous edge to an otherwise simple outfit and SJP carries off the look rather perfectly, we think. Sunglasses are going back in time with big, rimmed shades becoming an obsession among women. And, they are very functional as they protect your eyes from the harmful UV rays. Rims are now bigger with colours like white, pink, yellow, red and blue taking over boring black and mundane brown. Animal prints are no longer restricted to clothes and bags! Flaunt the spotty print on the rim of your sunglass and add that jazz to your ensemble. Talking about the lens, you have an entire colour palate to choose from. We suggest you try shades like pink, green, blue, silver and even a dash of purple. A simple Rayban sunglass or Jus Cavalli's white rimmed splendor or the purple tinted Christian Dior simply spell glamour!