Food




Recipes > 4 Course Flamboyance
Let's admit it! Four course meals are an ultimate expression of culinary extravagance. Chef Patel from Hotel Raintree gives us four scrumptious recipes to dish out a majestic spread and break the gastronomic monotony.
1.
Southern Fried Chicken with Mustard Cheese Fondue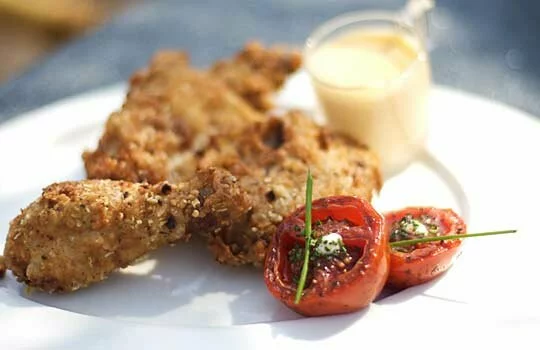 Ingredients
Marination
Frying

1.8 litres water

1/3 cup rock salt

½ cup honey

8 bay leaves

10 unpeeled garlic cloves

3 tbsp whole black peppercorns

2 large rosemary sprigs or 1 tsp dried rosemary

8 thyme sprigs or 1 tsp dried thyme

1 bunch parsley or 1 tsp dried parsley

2 tbsp finely grated lemon peel

¾ cup lemon juice

1 big broiler chicken cut into large pieces


2 cup flour

½ cup oats

2 tbsp garlic powder

2 tbsp onion powder

2 tbsp paprika

2 tbsp chilli flakes

1 tsp black pepper

4 tsp salt

3c buttermilk

oil for frying

For fondue


1 cup cheddar cheese (preferably yellow or any other melting cheese will do)
½ cup cream
1 tsp mustard
 

Preparation

Marination

Bring all ingredients except chickens to boil in a big pot.

Boil for a minute and cool completely. Chill until cold, about 2 hours.

Rinse chicken. Add to brine, pressing to submerge. Chill 12-24 hrs. Drain and pat dry. .

Fondue

Cut the cheese into small pieces, rub the inside of microwave bowl with 1 crushed garlic clove. Place the cheese, cream and mustard in the bowl and mix well. Microwave for 1 min, remove and mix well to ensure no lumps are formed. Serve as a dipping sauce

Frying

Mix all the ingredients except the buttermilk in a large g bowl. Place buttermilk in another bowl. Dip chicken in flour mix, then buttermilk, then flour mix. Place on a tray lined with paper sheets. Let stand 1-2hrs. Pour oil into a kadhai and heat until it is hot. Fry leg and thigh pieces turning once about 13mins, Chicken breast pieces 7 mins. Transfer to paper towels to drain. Sprinkle with salt and serve with the fondue
2. Spiced Tofu Steaks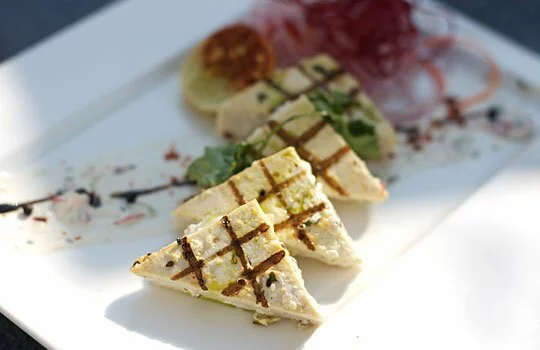 Ingredients
2 tbsp Sesame seeds

11/2 cup Coriander leaves

3 tbsp chopped hot basil leaves (Tulsi)

3 nos Green chillies

4 Lemons (for juice)

3 nos Fresh red chillies


2tbsp Hung curd

500 gm Tofu

1 tbsp Cumin Powder

Salt to Taste

2 nos Banana chillies (for garnish)

Oil to cook

For fondue


1 cup cheddar cheese (preferably yellow or any other melting cheese will do)
½ cup cream
1 tsp mustard
 

Preparation

1, Make a paste of sesame seed, hot basil, green coriander, green chillies, salt and lemon juice

2, Cut whole cube of tofu into 1 inch squares and 1 cm thick and mix with the above mixture with little bit of hung curd into it

3, To the mixed marinade of the tofu add a little bit of shredded hot basil and sliced fresh red chillies

4, Cook the tofu slices on the iron griddle till golden brown

5, Cut the chillies into diagonal rounds and toss in a pan with some oil until soft and season with salt.

6, Arrange the Tofu on a plate and garnish with the chillies, serve with a crisp julienne salad
3. Mediterranean Tuna Salad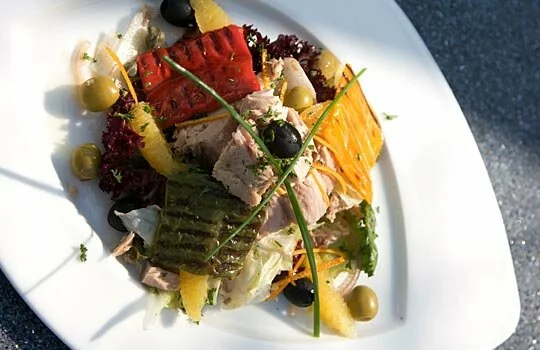 Ingredients
¼ cup olive oil

¼ cup balsamic wine vinegar

3 oranges, peel and remove segments

1 small red onion, halved, thinly sliced

2 red bell pepper

2 yellow pepper

24 asparagus spears

2 tin canned tuna (preferably in oil)


24 nos green olives

24 nos black olives

3 tbsp capers

3 tbsp chopped fresh parsley

1 bunch Iceberg lettuce

3 bunch mixed lettuce and salad greens

40 gms slivered almonds, toasted

 

Preparation

Wash the salad leaves thoroughly in cold running water.

Cut out the thick, woody part of asparagus spears and cook it boiling salted water until just cooked (still bright green and crisp). Cut the peppers into halves and marinate with salt pepper and 1 tsp olive oil. Roast them in an oven at 180 degree centigrade till cooked soft.

Whisk the remaining olive oil and balsamic vinegar in a large bowl to blend. Add orange, tuna chunks, onion, olives, capers and parsley toss with the dressing. Season with salt and pepper. (Can be made ahead and put in the fridge)

Divide salad greens among plates. Place the grilled peppers; arrange the tuna salad mix on top of the peppers. Garnish with the asparagus spears and almonds, drizzle the remainder of the dressing around the plate.
4. Devilish Mousse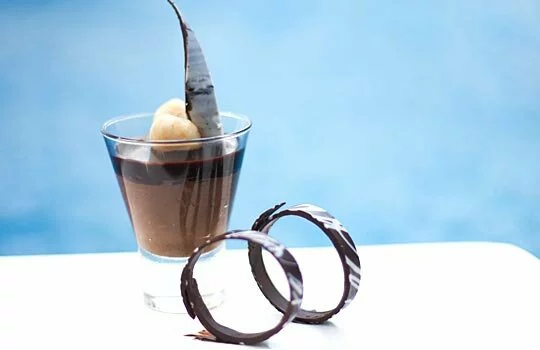 Ingredients
240 grams dark semisweet chocolate

50 mils Grand Marnier (Any orange liqueur or brandy can be used, to avoid alcohol replace with 50 mils of fresh orange juice)

10 gm freshly ground toasted Kashmiri red chillies

460 mils whipping cream

70 grams sifted icing sugar

Chocolate curls and fresh fruit slices for garnish
Preparation
Combine the chocolates, Grand Marnier, and chilli powder in a heavy saucepan and cook over low heat until the chocolate melts, stirring constantly.
Remove from the heat and cool until lukewarm.
Beat the whipping cream and add the confectioners' sugar, until soft peaks form.
Gently fold about one quarter of the whipped cream into the chocolate, then fold in the remaining whipped cream.
Spoon the mousse into individual serving dishes and chill until ready to serve.
Garnish with semisweet chocolate swirls and fresh fruit
Share your cherished memories, inspiring experiences, short fiction or your favourite recipes with our readers.

Write In